Anti-fracking demo in Enniskillen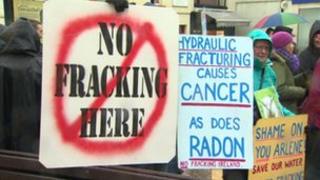 About 100 people have gathered in Enniskillen to demonstrate against the use of fracking to extract gas from shale rock in County Fermanagh.
Earlier this week an exploration company said there could be enough gas to guarantee natural gas supply for Northern Ireland over 50 years.
However, the process has proved controversial elsewhere.
In Lancashire, it has caused small earthquakes and in America, water has been polluted.
The process used in capturing the gas from the shale rock is hydraulic fracturing, known as fracking.
It involves drilling horizontally into the rock, forcing sand and water underground to cause tiny fractures that release the gas from the shale.
Tamboran Resources, the company that wishes to extract gas in County Fermanagh, said it would minimize risks with a seismic survey to give a detailed three-dimensional picture of what it is drilling into and it also said it will not use any chemicals in its fracking process.
Sinn Fein MLA for Fermanagh and South Tyrone Phil Flanagan was at the protest and said the demonstrators sent a clear message that they were "firmly opposed to the plans to allow fracking to take place".
"We all know the massive environmental damage that fracking has caused around the world and we are here to let Tamboran and the relevant government ministers know that they will not ride roughshod over the wishes of the local community and that we are prepared to stand up for our rights," he said.
Tamboran wants to proceed to a full environmental assessment before drilling two test holes.
If those test sites prove successful it hopes to convert them into production by 2015.
Last December, Northern Ireland Assembly members called for a stop to fracking.
They backed a call for a moratorium on onshore and offshore exploration and the withdrawal of licences by 49 votes to 30.
It is not clear if the vote will have any effect on how the executive decides to proceed.