Armagh novelist celebrates highs and lows of first book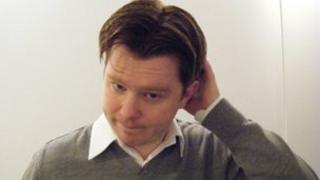 "It is a novel about what history has done to Ireland and what Ireland has done to history," writes Booker prize winner Hilary Mantel about Armagh man Darran McCann's first book.
Getting a first novel published in the current economic climate is a tough business.
Publishers are not renowned for taking risks at the best of times.
But writer Darran McCann has won a two book deal from publishers 4th Estate.
His debut novel, After the Lockout, has just gone on the bookshelves across Ireland and the UK - the deadline for his second book is just weeks away.
After the Lockout is set in the aftermath of the 1913 Lockout and Easter Rising - charting one of the most turbulent periods in Irish history.
Darran McCann, who is 32, came upon the seed of the idea in a conversation he had back in 2006, with a man who has since died.
"It was a yarn told to me about an old hay-shed in south Armagh which had the flaked remains of a hammer and sickle on the side.
"A bunch of people went to the parish priest and asked him if they could use the parochial hall for a dance. But he was paranoid about the left and communism and refused.
"They had their dance in the shed instead and, in badness, painted a sickle and hammer on the side wall."
McCann said it was a funny story but it had its origins in the story of the left in Ireland which is not as well known as it might be.
"It was a very seminal period in Irish history - A fault line which is there," he explained.
He chose his native Armagh as the setting for his story. The central character is from the tiny village where his own father grew up.
McCann studied English at Trinity College, Dublin, and always wanted to write a novel.
He became a journalist working in the Irish News in Belfast.
"I thought that journalism might be a way to scratch the itch of my writing ambition. But it did not fulfil it," he said.
"The way I think of it, writing is a kind of vocation. Sometimes I wish I didn't have the compulsion and need."
As the father of two small children, the famous pram in the hall - often quoted as the enemy to any serious artist - has not stood in his way.
"Two small children impose a great level of discipline on you," he said.
"I am at my desk at 10am and finish by 5pm or 6pm like most people."
No sooner has his first novel hit the shelves than the deadline for his second novel, which is set in Loughgall in the 1950s, looms.
McCann gave up his work to concentrate on his writing. He was one of the first three students to receive a PhD in creative writing from the Seamus Heaney Centre at Belfast's Queen's University.
Having completed the first book, like all authors, he received his own share of rejection slips. It is a painful rite of passage for even the best of writers - and he has held onto them.
"It is a difficult and painful experience to open them. You have to remind yourself that every author gets these. It is important to keep the faith and to keep plugging away.
"When I did get success, it felt almost miraculous. I had been hoping and dreaming of it for a very long time."
The support and admiration of Hilary Mantel, writer of the award-winning Wolf Hall, was an added bonus.
"I think that, though good historical novels are rare in themselves, much rarer are good historiographical novels, stories that reflect on their own workings and examine the processes they describe; this is one of those select few," she wrote.
"The triumph is that it is not only a deeply intelligent and self-aware novel, it is also entertaining from the first page to the last.
McCann also paid tribute to Northern Ireland writer Glenn Patterson, his tutor at Queen's.
His is the first novel to come from the PhD course in creative writing at the university.
"Glenn Patterson at the Seamus Heaney Centre was a great influence," he said. "Mine is the first novel to spring from the PhD course, but I'm sure it won't be the last."