David Ford calls prison sentences for non-payment of fines unacceptable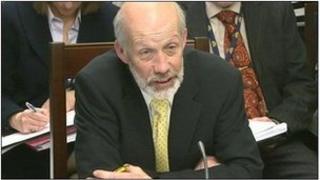 The justice minister has said the number of people going to prison for unpaid fines is "not acceptable".
Prison Service figures show that about 2,000 people are jailed every year for non-payment of fines.
David Ford said he wants to reform the system and ensure that people pay their penalties instead of spending unnecessary time in prison.
The minister said short sentences were of little deterrent and disrupted the work of the Prison Service.
There were 14,259 prison sentences for fine-defaulting between January 2006 and December 2011. The figures were uncovered by an investigation by news website The Detail.
"I think the reality is that nobody anywhere in this island thinks that sending people to prison for a few days has any chance of doing anything to reform them, any chance of deterring them," Mr Ford told Good Morning Ulster.
"Prison has to have people in for a reasonable length of time if you are to seriously address offenders' behaviour so the key issue is to make sure these community penalties work properly.
"Taking people into prison for a short period of time is enormously disruptive to the work being done by the Prison Service. It is extremely expensive and it achieves essentially nothing."
The justice minister would rather see those refusing or who cannot pay their fines given a community punishment, as in a pilot scheme, using supervised activity orders, in Newry.
"The most acceptable figure is that 100% of those who are given fines either pay their fines, whether by instalments, by their earnings or direct payment, or they do some sort of alternative community penalty such as a supervised activity order," said Mr Ford.