Man due in court over Newtownabbey house fire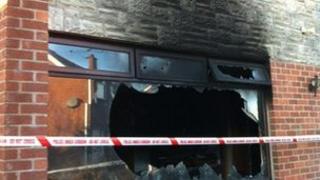 A 58-year-old man is expected to appear in court later charged with arson, endangering life.
He was arrested on Friday in relation to an overnight house fire in Newtownabbey, County Antrim.
The blaze broke out in the living room of the house at Sandyknowes Park at about 02:00 GMT on Friday.
A woman had to be rescued from the blaze after she ran back into her home to save her dog. She had earlier escaped with a man.
However, when she went back into the house she was overcome by fumes in an upstairs bedroom. Firefighters managed to bring her and the dog to safety.
The man collapsed outside the house and both people were taken to hospital. Their injuries are not thought to be life threatening.
Assistant Group Commander Mark Beresford said they had a lucky escape.
"It could have proved fatal if the fire crews had not been so close to the property.
"What they should do is to get out and stay out. We will enter the property and hopefully recover the pet. But the pet's life is not worth one human life," he said.
The living room of the house was badly damaged and there was smoke damage throughout the house.