Bowel cancer screening project to be extended in Northern Ireland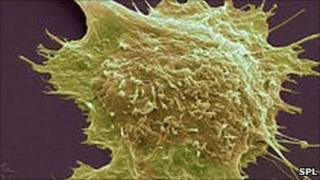 Northern Ireland's bowel cancer screening programme is to be extended with more people being targeted across all of the health trusts.
A lack of funding had meant fewer people were entitled to the free service.
Some charities had described the service as a post code lottery.
It is the second most common cancer in NI with around 400 people dying from the disease every year.
Margaret Fenton, who is 68, knows the benefits of taking the test.
She is a grandmother of three and a keen motor bike enthusiast. She was diagnosed with the disease in 2010.
"It saved my life," she said.
"I had no symptoms at all and felt normal and extremely well and yet results showed I had bowel cancer."
Mrs Fenton said she was about to bin the kit but then decided to open it and read the instructions.
The results were a total shock.
"It was such a shock but thankfully it was caught in the early stages and once I had my surgery I did not need a colostomy bag or any further treatment," she added.
Each year in Northern Ireland, 1,000 people are diagnosed with bowel cancer.
Dr Janet Little, assistant director of service development screening at the Public Health Agency, said early detection improves survival rates dramatically.
"The good news is that the earlier the cancer is detected, the chances of successful treatment improve significantly," she said.
The test kits are sent to home addresses which are provided by your GP.
Posted through the letter-box, it's then up to the person to follow the instructions and post the sample back in a specially designed envelope.
When used correctly it can detect traces of blood in the bowel motion.
Test kit
If this happens, further tests will be carried out and if necessary the person will be asked to return for screening.
According to the PHA, only 10 people in every 500 who complete the test kit will have traces of blood in their bowel motion and only one of these will have bowel cancer.
Mrs Fenton is urging people to take the test.
"The doctor told me my cancer was caught so early on that I would only be noticing signs and symptoms of something being wrong six months or a year later," she said.
"I feel very lucky that my cancer was detected because I did the simple test.
"I would encourage everyone - it could save your life. It saved mine."
While there are screening programmes for breast and cervical cancer, this is the first to include men.
Northern Ireland was the last region in the UK to offer a bowel cancer screening programme, in some areas in England and Scotland screening includes people up to 75 years old.
Anyone who has received the test kit and has questions about how to use it can call the Freephone help line number 0800 015 2514.
The programme is supported by a mass multi-media campaign.