Pardons likely for Irish WWII 'deserters'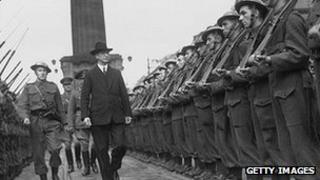 The men had become soldiers in World War II but among the details in the file marked confidential are their occupations before they signed up.
They were mostly labourers, but many of the roles are of a different age, a milk server, a butler, a tailor's apprentice.
It is not a list of honour, compiled under the Irish Republic's government of 1945, it is a list of those dismissed from the Irish Army for desertion.
The 5,000 men involved left the Irish Army after 1941, when the threat of invasion had receded.
"The problem then was what to do with them when they came back," explained Tommy Graham, editor of History Ireland.
"Eamon de Valera's government had to do right by the people who did not desert so they came up with the solution, Emergency Powers Order 362."
The order banned their employment in all state agencies for a period of seven years and the list was issued to every state body.
"I think in the circumstances it was quite generous treatment," Tommy Graham said.
"Obviously not pleasant for those who were blacklisted but the alternative was that they would face the rigours of military justice."
The consequences of the government's order helped shape Paddy Reid's life.
"My father's reasons for deserting the Irish army like thousands of others were low morale, very poor pay, really the boredom part got to them, there was a war going on that they wanted to be part of and he fought for the British Army throughout the Burma campaign into India."
There was no hero's welcome on his return to the Irish Republic.
"If a man could not work he could not feed his family and I was born into that environment where there was no work, no food, very poor accommodation," he said.
But Paddy along with his brothers and sisters were the lucky ones.
"The children of deserters killed in action were put into orphanages, and marked SS to be treated harshly" he added.
The letters SS, stand for 'saighdiuir sasanach', meaning English soldier.
"If you had an SS name behind your name as a three-year-old boy or girl you were in for it, you were going to pay for it," he said.
Stigma
Groups like the Irish Soldiers Pardon Campaign have been calling for a pardon for the soldiers who deserted.
The Republic's Justice, Equality and Defence Minister, Alan Shatter, has indicated that a pardon is on the way.
"There was a great deal of understandable concern to maintain the integrity of the Irish Defence Forces, desertion from any army at any time is a serious issue," he said.
"I think now that we are so much further on we have an opportunity to look back on those events, re-evaluate judgements made and where wrong judgements were made to correct them and this is an opportunity to do that."
It is a move supported by all parties in Northern Ireland's Assembly.
"This is about repaying a debt and trying to remove the stigma from families that were put in this very difficult position," said DUP MLA, Peter Weir.
Others are critical of the gesture.
"A pardon implies that the government did something wrong," Tommy Graham said.
"My suggestion is that they be given an amnesty.
"Jimmy Carter, for example, gave an amnesty to people who dodged the Vietnam draft and allowed them to come home but that black mark against them was still on the record, they were amnestied but not pardoned."
However, Paddy Reid wants to see justice for his father and others like him.
"It's too late for many of those men, they'll never hear it but I think for the children it would mean, yeah, it's okay to be the descendant of a deserter.
"My father was a good just man, loved in the community, respected in the community; a pardon is not going to make him any different than he was."