161 work in Stormont press and information offices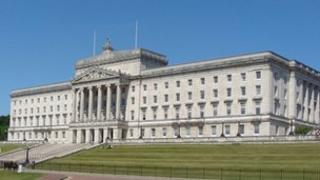 One hundred and sixty one people are employed in the information offices of Stormont, it has been revealed.
The number was released in a question submitted to the assembly by TUV leader and North Antrim MLA Jim Allister.
"One department, OFMDFM, spends almost £800,000 a year on running its press office while another, DSD, employs 20 staff," he said.
OFMDFM said only four staff worked directly to the four OFMDFM ministers.
There are four other staff who work on publications, the web and social media.
A director and deputy director, supported by a personal secretary provide a strategic communications role across the 12 Northern Ireland executive departments.
Six other staff work in a corporate support role providing a range of services which include the central management of cross department contracts.
"Since coming to Stormont I have exposed a litany of examples of how Stormont squanders public money on things which deliver nothing of benefit to ordinary people," said Mr Allister.
"It is an absolute scandal that at a time when Stormont is discussing plans to close schools and hospitals across our province - I think particularly of the threat to the Causeway Hospital which is so important to the people of north Antrim - £5m can be found to pay for spin doctors."
Numbers
There are 17 people employed in the Department for Employment and Learning's information Service at a cost of £557,923 a year.
The Department for Regional Development press office employs five staff at a cost of £204,031 in salaries.
The current number of staff employed in the Department's of Social Development's information service is 20, with an approximate annual cost of £635,084.
The Department of Agriculture and Rural Development's information service is made up of two sections, the press office and the graphics unit.
There is a total of 14 staff employed and the total salary costs for 2010/11 were £385,505.
There are currently 13 people working in the Department of Education's information service. Salary costs for the 2010/11 year, when there were 14 members of staff, were £387,522.
Six people are employed by the Department of Finance and Personnel, with an annual cost of £211,044.
The Department of Health, Social Services and Public Safety has 11 information office staff costing £370,907 a year.
In Justice, 24 people are employed in its information service. The annual cost of this service is £677,391 approximately.
The Department of Culture, Arts and Leisure had a total of six staff in post during 2010/11, the Department of Trade and Investment seven.
A break down of costs for these departments was not given in the assembly answer.
There are 14 staff employed in the Government Advertising Unit - shared service centre, funded and governed by the 12 executive departments.
It was established to apply specialist expertise to the management of government advertising to improve value for money and effectiveness in communicating with the public.
The executive said the unit delivered estimated savings of more than £1m to the public sector during 2010/11.
Seven people are employed in the Central Editorial Team of NIDirect.
The team is responsible for the development and maintenance of the NIDirect website.