Truth behind soldier's murder 40 years ago comforts family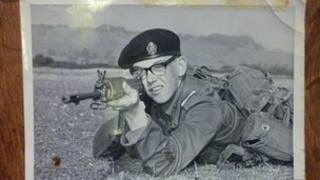 The family of an English soldier shot dead in a republican part of Belfast at the start of the Troubles have publicly thanked the local people who tried to save his life 41 years ago.
Private Paul Carter was shot by the IRA in 1971.
His relatives were told no-one tried to help him, and attempts were even made to steal his rifle.
It was also rumoured that local people tried to run off with the body of the 21-year-old soldier.
However, four decades later, a report by Northern Ireland's Historical Enquiries Team (HET) has revealed that people near the Falls Road in west Belfast did help the dying soldier, as he lay on the ground close to the Royal Victoria Hospital.
Not only did two men run to his aid from the Falls Road, but they risked their lives in doing so.
The report said: "Two men, who were close by, ran down the road to where Private Carter was lying and carried him to the casualty building inside the hospital.
"As they were doing so, they heard a second burst of gunfire but continued to carry Private Carter to safety."
The report has been a source of comfort to Private Carter's family, who live in Brighton, Sussex, in the south of England.
The soldier's sister, Trudie Baker, said: "We were told that somebody tried to take his rifle from him while he lying, bleeding to death. That was not true.
"The way it was told to us, he was on his own, and that wasn't the case.
"He wasn't just left to die. To me that has made a huge, huge difference. To find that somebody wanted to help him, and a lot of people did, that was just invaluable for me."
More than 200 soldiers were killed in Northern Ireland between 1971 and 1973. It was a frenetic period for the military.
Private Carter was serving in the 2nd Battalion, The Queen's Regiment, based at Glenravel Street in Belfast.
On 14th September 1971, he was guarding an Army lorry which was delivering medical supplies. He was hit twice in the chest by an IRA gunman.
At the time, his family back in England found it difficult to find answers to their questions.
His sister said: "We tried as a family to find out what had happened. We spoke to the regiment about what had happened and basically it was always a bit of a brick wall - 'Well, he died while on duty' they said.
"Yeah, of course he did. But every family needs to know the circumstances around that. For instance we wanted to know whether he had body armour. He didn't have body armour. The Historical Enquiries Team found that out for us."
The HET was set up at the end of 2005 to re-examine all of the deaths in Northern Ireland during the Troubles - police officers, paramilitaries, civilians and soldiers.
The team consists of police officers from forces across the United Kingdom, including West Yorkshire, West Midlands and Greater Manchester.
So far, they have reviewed almost 2,000 deaths. A written report has been sent to the families of the people who died, outlining the known details of the killing and the number of prosecutions, if any, which took place.
The HET is headed by former Metropolitan Police commander, Dave Cox.
He said: "It's a bit of a departure because most police forces would recoil with some shock at the thought of writing down everything about a case and giving it to a family.
"Some people take a lot of comfort and value from what we do. Some people find the process rather traumatic, and some people don't want to engage. But it's a very much an individual choice.
"We've recovered paperwork in probably 95% of cases. Sometimes, police files are missing, because police stations were blown up."
After a reviewing a case, the HET can refer it back to the PSNI crime operations department for further investigation and possible prosecutions. This has happened on 22 occasions.
In most instances, the passage of time means there is very little hard evidence available and no prospect of anyone being convicted.
In the case of Private Carter, no-one was ever arrested, and, realistically, the murder will never be solved.
However, for Trudie Baker, finding out that he did not die alone brought her some consolation after 40 years of grieving for her older brother.