Tough times for Northern Ireland's young job-seekers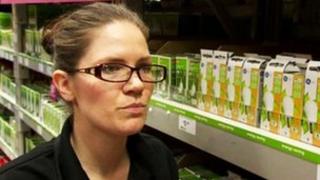 It's a tough time to be looking for a job in Northern Ireland.
Almost one in five young people is out of work in NI and youth unemployment has doubled since 2008, according to figures from the Labour Force Survey.
The phrase "lost generation" is being used increasingly to describe those aged 16 to 24 facing the scourge of unemployment.
BBC NI's Spotlight programme followed the fortunes of a number of jobseekers, to find out how a range of young people are coping with declining prospects and to put faces behind some of the statistics.
Emma Taylor, 24, from Londonderry, graduated from the University of Ulster with a first class honours degree in international politics.
She told Spotlight: "I was initially quite confident that I would find a job because I had such a good degree result, but really it has just sort of definitely decreased over time and it's not surprising any more to me that I am struggling to find work, because everybody is in the same boat."
Emma, who has been working part time in a DIY store, added: "It's really knocked my confidence whenever it comes to applying for jobs.
"You don't think that you are good enough, you don't think that anything that you do is going to be good enough or is really going to amount to enough to warrant you getting a full time job in this climate."
New start down under
Rather than join the ranks of jobless young people here, Jamie Kidd, 25, recently moved to New Zealand to make a new start.
A film studies graduate of Leeds University, he had hoped to begin a career in London but could not get a job in his chosen profession.
He returned to his native Northern Ireland and had a series of temporary contracts before deciding to emigrate.
"I kind of thought I can't really deal with much more of this, you know," he said.
"Earning nine grand a year is not a lot of money and my work is so ad hoc that I can't, really I can't make a decent wage."
Youth unemployment has risen faster in Northern Ireland than in any other UK region, according to figures from the Office for National Statistics.
Economist Neil Gibson has a bleak forecast.
"Unfortunately, we don't see the economy turning round very quickly, so there isn't a huge amount of jobs that these people are going to be able to find over the next two to three years," he said.
"So, there is a real possibility that this could build up, build up and people will stay forever out of the labour market. Every year you are out of the work, it gets incrementally harder to get back in."
Former bricklayer Adam Pettigrew (22), from Belfast, was determined to change his situation.
At one stage, he was one of the 48,000 so-called Neets here, young people not in employment, education or training, when he found himself out of a job through the downturn in construction.
However, now he's training to be a pastry chef, at Belfast Metropolitan College.