Pat Buckley 'squatters rights' case settled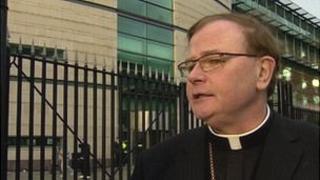 'Independent bishop' Pat Buckley has settled his legal bid for "squatters rights" to the home he has been in since being suspended as a priest.
A High Court judge was told mediation had resulted in a confidential agreement being reached over the property in Larne, County Antrim.
Pat Buckley has lived there for 27 years.
Although confidentiality surrounds the terms of the resolution, it is thought the cleric will remain at the house.
Members of his independent Oratory congregation also gather there to worship.
Pat Buckley brought a case against the Catholic Diocese of Down and Connor, as the registered owners of the property where he also conducts marriages, and retired Bishop Patrick Walsh.
He said he was seeking adverse possession so his name could go on the deeds and enable £70,000 worth of repairs to be carried out.
Both sides in the case had been urged to enter talks in a bid to avoid the action going to trial.
In court on Tuesday Henry Toner QC, for the diocese, confirmed to Mr Justice Deeny: "The mediation your lordship directed has been successful.
"The parties have reached an agreement in respect of the premises which they wish to remain confidential."
Mr Toner added: "It brings a conclusion finally to these proceedings which have been continuing from 2008."
Pat Buckley brought the case as a personal litigant.
'Binding agreement'
His action has now been irrevocably withdrawn by consent as a result of the agreement.
At one point on Tuesday the cleric asked what the legal status of the outcome was, in the event of either side defaulting.
The judge assured him that it was a binding agreement.
Any breach could lead to the case being brought back to court.
Mr Justice Deeny also told him: "I don't want to be troubled by any unrepaired window."
Outside the court Mr Buckley expressed his satisfaction with the agreement, but declined to go into any details.
"I feel I have experienced co-operation and generosity from the diocese," he said.
"I came here to get ownership so I could repair the property, and I'm happy in how it has been resolved."