New Conservative party for NI to be based in Bangor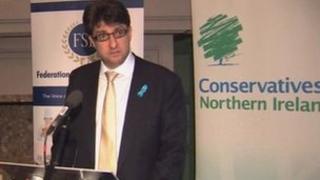 The Conservative party have announced the formation of a new political party in Northern Ireland.
The Conservative and Unionist Party of Northern Ireland will be based at new headquarters in Bangor, County Down.
The party's co-chairman Andrew Feldman said that the party would have significant powers within the UK Conservative Party
The Conservatives had previously established an electoral alliance with the Ulster Unionist Party.
Despite fielding joint candidates at the 2010 general election, the Ulster Conservative and Unionist New Force (UCUNF) failed to win any seats.
Lord Feldman had previously written to Ulster Unionist leader Tom Elliott in November 2011 suggesting the UUP disband and merge with the new Conservative-led formation, but the offer was rejected.
Announcing the new party, Lord Feldman said: "For too long, politics in Northern Ireland have been built around sectarianism and division.
"We want to move past the politics of the peace process to a more normal state of affairs where everyone in Northern Ireland has the opportunity to vote for a modern, centre-right, pro-Union party."
The party will have its own chairman, and an observer's seat on the Conservatives' main board.
It expects to appoint a leader in 2012.
Vernon Coaker, Labour's shadow Northern Ireland secretary, dismissed the plans.
"The Conservative Party in Northern Ireland has been relaunched more times than the Big Society," he said.
"Instead of prioritising their party's self-serving misadventures in Northern Ireland, the prime minister and the secretary of sState should concentrate on meeting their responsibilities to help secure the peace process and build a shared future."