Baby bug inquiry to be 'rigorous'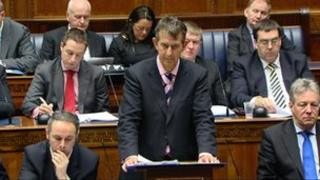 An investigation is to be held into the Pseudomonas outbreak which has claimed the lives of four babies in NI.
The health minister told the Northern Ireland Assembly it would be headed by Patricia Troop, former head of the Health Protection Agency in England.
Three babies died from the bacterial infection at Belfast's Royal Jubilee Maternity Hospital in January.
In December, another baby died at Altnagelvin Hospital, Londonderry, from a different strain of the infection.
Edwin Poots, speaking on Tuesday, said he was very conscious of the grief of parents and knew they wanted answers.
"I need to know what happened, why it happened, and what we now need to do to minimise the risk of this happening again," he said.
"Be in no doubt, I am absolutely determined and I will not be deflected."
Professor Troop will be assisted by a team of four experts. Their remit will include a thorough investigation of the Department of Health's response to the outbreak and that of the other four health agencies.
"Given the gravity of what has happened, my priority is to ensure that the review is thorough and rigorous, but also makes recommendations on any immediate actions that we need to take," said Mr Poots.
"I want an interim report by the end of March, so that urgent actions can be taken.
"However, I am not content to leave it there.
"I have asked that the Regulation and Quality Improvement Authority (RQIA) also investigate the experiences of the families of those babies who died and also those who have been affected in other ways."
Safety procedures
Gavin Burke, whose baby son, Caolan, died in Derry had called for a public inquiry into the deaths.
However, Mr Poots said he needed recommendations from any investigation as quickly as possible and a public inquiry would delay that process.
Staff in hospitals have been told to avoid using tap water with babies, while tests on water outlets and necessary refits are carried out.
They have also been given a special hand rub to use after washing and drying their hands, while parents must follow the same procedures.
Since the outbreak at the Royal Jubilee Maternity seven babies have been infected. Of those seven, three died and one recovered from Pseudomonas but died later from unrelated causes.
The remaining three babies affected are said to be "progressing well".
Last week it was a announced that there were a further six babies who had been associated with the Royal who were colonised but had no signs of infection.
A further baby tested positive a few days later, but the number has remained at seven since then.
There are also six babies colonised with Pseudomonas who have had no association with the Royal - two in Altnagelvin, three in Craigavon Hospital and one in Antrim Area Hospital.
The minister said there had been no new cases of Pseudomonas infection at any of NI's neonatal units in the past week.
Pseudomonas aeruginosa is a relatively common type of infection encountered in UK hospitals, and its tough nature and the severity of the symptoms it causes mean it is a priority for infection control departments.
There have been a number of outbreaks in hospitals in the UK, with the source sometimes traced back to contaminated water in sinks and drains.
It has the ability to survive for up to several days on surfaces, further increasing the risk of it being passed on to patients.
Latest figures suggest that the number of pseudomonas infections is fairly steady, with between 3,700 and 4,000 cases reported to the Health Protection Agency each year.