Northern Ireland exports up almost 10% on last year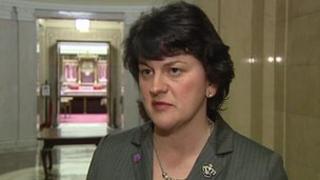 New figures from the Department of Enterprise suggest that exports from Northern Ireland increased by almost 10% last year.
The department's new export monitor uses trade data compiled by HM Revenue and Customs.
It shows exports grew by 9.5% between the third quarter of 2010 and the third quarter of 2011.
The fastest growing export market was the so-called BRIC countries of Brazil, Russia, India and China.
Exports to those countries rose by almost 30%, although that is from a low base.
The value of exports to those countries rose from £107m to £139m, which represents less than 3% of total exports.
The largest single export market is still the Republic of Ireland. It was worth £2.1bn, which is 37% of the total export market.
However, total exports to that market rose by just 2.9% over the year and the department said prospects for export growth from NI to the Republic "continue to look muted" in the immediate future.
It pointed to the facts that personal consumption in the Republic is predicted to have contracted by 2.5% in 2011 and that domestic demand is expected to fall again in 2012.
Enterprise Minister Arlene Foster said Northern Ireland must diversify its export base to avoid over-reliance on a small number of markets and to take advantage of opportunities in the faster growing emerging economies.
The details are contained in the latest edition of the department's economic commentary.
It also examined the labour market and suggested that rising numbers of women claiming Jobseeker's Allowance may reflect continuing changes to the benefits system.
Official figures show that all of this year's net increase in claimants in Northern Ireland has been driven by an increase in female claimants, up by 2,700, with the number of male claimants falling by 300.
The department said: "This pattern may reflect the impact of UK-wide reforms of benefits for lone parents, with some people previously claiming Income Support moving to Jobseeker's Allowance."
The department has also warned that the chancellor's intention to introduce regionalisation of public sector pay would have "significant implications" for Northern Ireland if introduced.
In his autumn statement George Osborne announced a review into regional pay for public sector employees which could seek to bring public sector pay into line with private sector pay.
The department said: "If this were to be introduced it would have significant implications for Northern Ireland, which has some of the lowest levels of private sector wages and highest public sector wages in the UK. "