NI university applicants decrease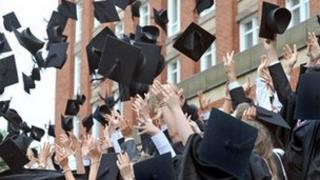 Fewer young people from Northern Ireland have applied to go to university in September 2012.
Figures from UCAS, the body through which people apply to universities, showed there were 4.4% fewer applications from NI young people.
However, the number of local students applying to NI universities is almost the same as last year.
There has also been an increase in applications from England, Scotland and Wales to universities in NI.
However, the 7% increase equates to just 300 more students from Britain than applied in 2011.
"It had been thought that the decision to peg the tuition fees here would have led to much increased numbers, but that has not happened," said BBC NI education correspondent Maggie Taggart.
"Despite fees being lower for Great Britain students in the University of Ulster and large bursaries offered at Queen's, there has not been a big increase in applications from England, Wales or Scotland."
The overall figure for students applying to universities across the United Kingdom has fallen by 8.7%.