Stephen Carroll murder accused DNA in getaway car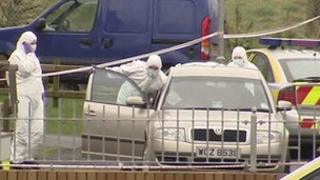 DNA from one of the men accused of murdering Constable Stephen Carroll was found in the alleged getaway car, a court has heard.
Brendan McConville, 40, from Aldervale, Tullygally and John Paul Wootton, 20, of Collindale, Lurgan, deny murder.
Constable Carroll was murdered in March 2009.
A forensic expert said DNA on the cuffs and collar of Mr McConville's jacket had a one in a billion chance of belonging to someone else.
The scientist said she uncovered Mr McConville's DNA profile on three separate sites on a brown jacket found in the boot of Mr Wootton's car.
Despite Mr McConville's protestations that he did not own the jacket, Faye Southam said that in her opinion "the findings are more likely to be obtained if he was the regular wearer of the jacket".
Constable Carroll, 48, was shot in the head after answering a 999 call with colleagues.
At the time the dissident republican group, the Continuity IRA, claimed they were responsible for the shooting.
Constable Carroll was the first police officer to be killed since the formation of the Police Service of Northern Ireland (PSNI).
He was a married man with children and from the Banbridge area of County Down. He had served in the police force for more than 24 years.
Mr Wootton's 39-year-old mother Sharon denies perverting the course of justice by removing a computer from her home following the shooting.