Tax on plastic bags introduced in April 2013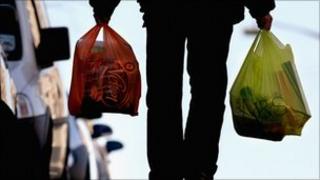 Plastic bags in Northern Ireland will cost five pence from April 2013.
Environment Minister Alex Attwood said the levy, which applies to single use bags, will rise to 10 pence in April 2014.
It is the first time a plastic bag levy has been introduced in Northern Ireland.
Mr Attwood also said there would be no charge for multi-use bags in 2013 - but they will cost 10 pence a year later.
"We want to demonstrate that the Northern Ireland government is dedicated to the clean and green agenda," he said.
"One way to do that is to reduce the 160 million plastic bags that are used in Northern Ireland every year."
He added: "There is no doubt that carrier bags are a scourge on the environment.
"Evidence from other countries demonstrates that a bag levy is a simple and effective means to reduce substantially the negative environmental impact of carrier bag consumption.
"However, I recognise that consumers will need time to change their behaviour and adjust to bringing their own bags when they shop. I therefore propose to discount the charge to five pence in the first year.
"This will ensure a phased approach to charging."
Mr Attwood said the scheme would be extended to includelower value reusable bags in April 2014.
The minister said 10 civil service jobs would be relocated to Londonderry to administer the levy.
However, an organisation which represents some retailers warned that introducing such a tax on plastic bags could be harmful for some businesses in Northern Ireland.
Glynn Roberts of the Northern Ireland Independent Retail Trade Association (NIIRTA) said: "We are concerned that this is a tax on hard-pressed working families and will add to the burden of red tape particularly for small shops who will become tax collectors for this new scheme.
"It's unclear if it is intended to discourage plastic bag use or if it is a revenue raiser. It has to do one or the other - it can't do both."
A charge for plastic bags was first introduced in the Irish Republic in 2002 - it is currently 22 cents per bag.
Authorities there estimate that, following the introduction of the charge, consumption of plastic bags fell by 90% from initial consumption on 1.2 billion bags per year or around 328 per person.
The charge has also raised over 173 million euros for the exchequer in the Republic.
Mr Attwood said the charge had worked "extremely well" in the Republic.
He said the measure would raise up to £4m a year in Northern Ireland, which would be used for environmental causes.
Wales introduced a charge on single use carrier bags in October 2011.
More than 200 million bags are currently used in Northern Ireland every year.