Credit unions warn of increasing payday loan dependence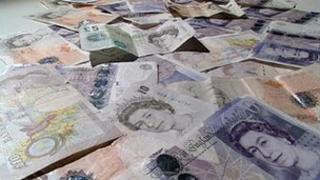 The Irish League of Credit Unions have said that 2012 will see a drop in disposable income for NI households.
The Household Income Tracker asked more than 500 adults in Northern Ireland how the fall in household income had affected them.
It revealed that increased fuel bills meant that a significant number of people were turning to moneylenders and payday loans to cover their payments.
A typical Northern Ireland consumer pays out £131 on fuel each month.
The Irish League of Credit Unions claimed that the increase in costs saw more than 100,000 people (8% of residents) take out loans to keep up with other bills.
Rosemary O'Doherty of the Irish League of Credit Unions said: "It is clear that people are expecting a year of new challenges and financial pressures.
"The fact that people have to turn to high interest loans from moneylenders and payday companies in such large numbers is of particular concern."
A quarter of these who took payday loans were unable to meet their repayments on time.
The tracker suggests that approximately 170,000 people (12% of all adults) have no money left after paying their bills.
Hear more on the NI Business News Podcast.