Edwin Poots rules out inquiry into baby infection deaths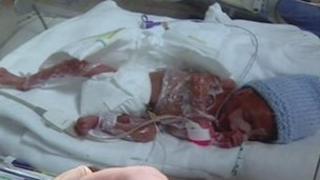 The Health Minister, Edwin Poots, has told the father of a baby who died from pseudomonas there would be no public inquiry into the deaths.
Gavin Burke's baby son, Caolan, died in Altnagelvin in December, just weeks before three babies died from a different strain of the bacteria in Belfast.
Mr Poots spoke to Mr Burke on Saturday.
Meanwhile, it has been confirmed that pseudomonas has been detected at the Ulster Hospital's neo-natal unit.
None of the babies at the Dundonald unit have tested positive for the infection.
Screening is ongoing there after the infection was discovered in water outlets.
Mr Burke said he was disappointed with the minister's decision.
"He said he was sorry for the loss of baby Caolan but that they will not be holding a public inquiry.
"He's going to get an independent person to hold an independent inquiry.
"He said he was going to have a meeting on Tuesday and discuss more about it then.
"I am not happy about the decision and I would like a judge to hold a full public inquiry so everyone can find the truth about the deaths of four babies from psuedomonas."
Meanwhile, seven more babies remain infected by pseudomonas.
Staff in hospitals have been told to avoid using tap water with babies, while tests on water outlets and necessary refits are carried out.
At the weekend, the health service update on the outbreaks said: "According to the latest figures, there are no new cases of pseudomonas infection at the Royal Jubilee Maternity Hospital's (RJMH) neo-natal unit, so the overall total who have been infected in this outbreak remains at seven.
"It was also confirmed on (Friday) that the number of babies who have the pseudomonas bacteria on their skin associated with the RJMH outbreak remains unchanged at seven.
"It is not causing active infection in these babies."
Minimise risk
In a statement, the Department of Health said all necessary precautions were being taken to avoid the spread of infection.
"A carefully planned programme is under way to ensure that all appropriate control measures are in place across all trusts to minimise the risk of pseudomonas," the statement said.
"An ongoing programme of testing water and replacement of taps in the neo-natal intensive care units in all trusts has commenced and will be completed as soon as possible. Until this programme has been completed, tap water will not be used directly with the babies.
"All staff will continue to use alcohol hand gel following hand washing. It is important also that the public continues to follow good hygiene practice when visiting hospital."
Five hospitals in Northern Ireland have neo-natal intensive care facilities.
Most babies would be cared for at the Royal Jubilee Maternity Hospital in Belfast, but there is also provision at the Ulster Hospital; Antrim Area Hospital; Craigavon Hospital and Altnagelvin Hospital in Londonderry.
Two more hospitals, the Erne Hospital in Enniskillen and Daisy Hill Hospital in Newry, can provide neo-natal intensive care for one baby in each hospital if needed.
Pseudomonas aeruginosa is a relatively common type of infection encountered in UK hospitals, and its tough nature and the severity of the symptoms it causes mean it is a priority for infection control departments.
There have been a number of outbreaks in hospitals in the UK, with the source sometimes traced back to contaminated water in sinks and drains.
It has the ability to survive for up to several days on surfaces, further increasing the risk of it being passed on to patients.
Latest figures suggest that the number of pseudomonas infections is fairly steady, with between 3,700 and 4,000 cases reported to the Health Protection Agency each year.