McNarry to formally resign from the Ulster Unionist assembly team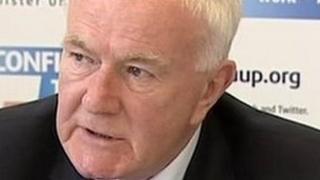 Strangford MLA David McNarry is to formally resign from the Ulster Unionist assembly team later.
It comes as the fallout continues over his revelation that he has been talking to the DUP about greater cooperation.
Mr McNarry announced on Friday he was quitting after his party leader rang to tell him he was being demoted for talking to the Belfast Telegraph.
Under assembly rules, Mr McNarry must inform the Speaker of his decision to resign from the Ulster Unionist group.
Mr McNarry said he was shocked and insulted when his leader told him he would be removed as deputy chairman of the assembly's education committee.
He insists his interview with the Belfast Telegraph was done with the leader's full knowledge.
He remains a member of the Ulster Unionist party - whose assembly team will fall from 16 to 15.
It is due to meet as usual on Monday. The departure of Mr McNarry will no doubt be a key talking point.
The DUP deputy leader Nigel Dodds has told the Politics Show on Sunday that Mr McNarry would be welcomed if he wanted to join the DUP.