Release IRA tapes says Jean McConville's daughter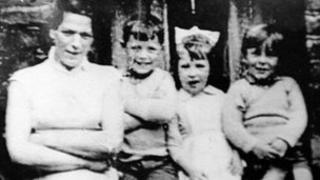 The daughter of Jean McConville who was kidnapped and murdered by the IRA, has called for controversial tapes about her killing to be released.
Helen McKendry said interviews given to researchers at Boston College about her mother's death should be handed to police in Northern Ireland.
She was 15 years old in 1972 when her mother was taken from their Divis Street home.
Jean McConville was shot and buried near a County Louth beach.
Police investigating Mrs McConville's death want access to the tapes which were conducted with former IRA members.
Last week, a federal judge in America threw out a legal challenge against the US government's attempts to obtain the interviews.
An appeal court will have the final say on whether the tapes are handed over.
The men behind the project have refused to release any of their transcripts.
Journalist Ed Moloney and republican researcher Anthony McIntyre argue that the release of the documents could harm the peace process in Northern Ireland and risk the lives of some of those who gave confidential testimonies.
The Belfast Project involved academics, historians and journalists conducting interviews with former republicans and loyalists about their activities during the Troubles.
The interviewees were promised their accounts would remain confidential until after their deaths.
In an interview with RTE's This Week programme on Sunday, Ms McKendry said that she wanted to know what people had to say about her mother in the interviews.
"There might be someone on the tapes telling the full story, who was actually there," she said, adding that not knowing what happened was "torture".
Ms McKendry has written to the US Attorney General asking him to see the family's side of the story and hand over the interviews to the British authorities.
She claimed the release of the material would actually enhance the peace process.
She told RTE she wanted to clear her mother's name and hoped the release of the archive might confirm that the IRA got it wrong when it shot her because it was thought she was an informer who was co-operating with British authorities.