Ford urged to end strip searches in NI prisons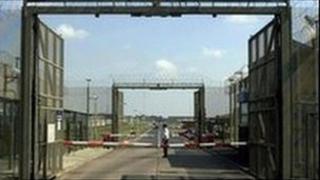 The justice minister has been urged to end strip searching at Maghaberry prison and use modern hi-tech scanners.
Prison reform campaigners have argued that full body searches are fuelling support for dissident republicans.
Raymond McCartney, Sinn Fein, who is deputy chair of the Stormont justice committee, said David Ford should give the go-ahead for the new body scanners.
His call follows dirty protests and hunger strikes by some republican prisoners at the County Antrim jail.
Mr Ford said he understood the concerns of prison reform campaigners, but needed more time.
The minister said security and safety came first.
"There is traction for dissident support groups because of the prisons issue," he told the Sunday Politics Show.
"The reality is that I cannot move in a way that would compromise the security and safety of prisoners and prison staff and the prisons in general. I am keen that we find alternatives to full body searching but that cannot be done at the expensive of security and safety."
Mr McCartney, a former prisoner, was speaking on the Sunday Politics Show.
"We are saying to him very clearly that if there is technology there, he should do it in a way that he is not seen to be dragging his feet," Mr McCartney said.
"I think we have given him time and space, now is the time to act."