Rev Ian Paisley ends 60 years of full-time ministry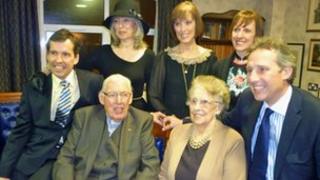 There was standing-room only at Martyrs' Memorial Church in Belfast at a farewell service for the Rev Ian Paisley.
More than 3,000 people gathered to hear him preach.
Now aged 85, the service marked the official end of his six decades of full-time ministry.
The former DUP leader and Stormont First Minister stepped down from elected politics last year, and intends concentrating on writing his memoirs.
Now known as Lord Bannside, speaking before the service, he said: "I am exceedingly happy that I've had the privilege of being the preacher here for 65 years, and that's a long time.
"We have seen a miraculous work done, and we have seen a great change in our city in many ways. We've seen a change spiritually by people having respect for the bible."
Among those at the service was the Stormont Health Minister Edwin Poots and DUP MP William McCrea, who sang a solo.
One of those who spoke was the Rev Ian Paisley's son, Kyle, who is also an ordained minister. He described his father as "a doer, an achiever and a great dad".
The Rev Ian Paisley preached his first sermon at the age of 16.
He was ordained at the age of 20, just after the Second World War. Even when his political career took off, he kept preaching - three times a week, including twice on a Sunday.
He formed his own fundamentalist Protestant denomination, the Free Presbyterian Church.
Loved by some, loathed by others, he was accused of blatant sectarianism when he interrupted the Pope's speech to the European parliament in 1988.
Although he is leaving full-time ministry, Friday night's sermon was not expected to be his final time in a pulpit.
He is likely to accept occasional invitations to preach in Northern Ireland and abroad.