Neil Hyde 'has named Martin O'Hagan murder gang'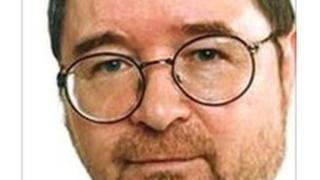 A man previously accused of murdering journalist Martin O'Hagan has agreed to co-operate with police investigating the LVF killing.
A lawyer for 32-year-old Neil Hyde told Belfast Crown Court the Lurgan man has signed a contract to become an "assisting offender".
He said he had offered the Crown "the very greatest assistance in relation to resolving the notorious killing".
Mr O'Hagan, 51, was shot dead in Lurgan in September 2001.
The killing of the Sunday World reporter was claimed by the Red Hand Defenders, a cover name used by both the Loyalist Volunteer Force and Ulster Defence Association.
Lawyer Gordon Kerr QC said Hyde signed the contract under the Serious Organised Crime and Police Act (SOCPA) in return for a reduced sentence for 48 LVF-linked offences to which he has already pleaded guilty.
His address was given as c/o the Witness Protection Unit.
Mr Kerr said it was while Hyde was being questioned by detectives from the PSNI's Retrospective Murder Review Unit in September 2008 that he confessed to a number of offences and formally agreed to help police six months later.
He has admitted to six charges relating to petrol bombs, nine of affray, drug dealing in cannabis and cocaine, five relating to arson, seven firearms offences, two charges of withholding information in relation to a murder and a wounding.
He has also pleaded guilty to robbery and attempted robbery, aggravated burglary, causing actual bodily harm and managing a meeting in support of the LVF.
All the offences occurred on various dates between 1 January, 1992 and 24 January, 2008.
Mr Kerr said Hyde had told police he was in a flat on the evening of the murder.
He said he had named the other people who were present and how a loaded gun was produced and that it later became evident that a shooting was going to take place.
'Crossed the Rubicon'
Mr Kerr said Hyde insisted he left the flat unaware of the intended target and took no part whatsoever in the incident.
The lawyer said Hyde also told police what he knew about the murder of another man Graham Edward Marks in Tandragee in April 2001.
At the time police said they believed the killing was linked to a feud between the LVF and the UVF in the area.
Hyde's lawyer said his client had "crossed the Rubicon" by co-operating with police and put himself and his family in danger for life.
He said his decision was the clearest possible indication of his remorse and his determination to turn his back on his previous life.
The lawyer urged Judge Patrick Lynch QC to give Hyde a suspended sentence in return for his promise of the 'highest order of co-operation' with the PSNI.
The judge said he would sentence Hyde next Friday morning.