Tom Elliott 'explores' UUP-DUP cooperation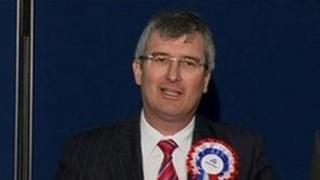 The Ulster Unionist leader Tom Elliott has written to party members to reassure them about the nature of talks with the DUP.
In the letter, seen by the BBC, he said the brief was nothing more than to "explore areas of cooperation for the benefit of unionism in general".
He added that the talks were "without prejudice to the interests or integrity of the Ulster Unionist Party".
There has been speculation about talks between the parties in recent days.
Mr Elliott also said he had always questioned whether a single unionist party "would deliver the required electoral success for unionism."
However, he had wished to "do justice to that section of the pro-Union electorate who urged our candidates last May to work more closely with other unionist parties".
Mr Elliott reassured members that should there be a need for decisions to be taken as a result of the discussions he will bring them before the party executive.
He said he had written the letter in light of recent media stories adding that in his role as party leader he had held meetings with other parties as well.