'Trainspotter' faces terror charges over Ballykinlar pictures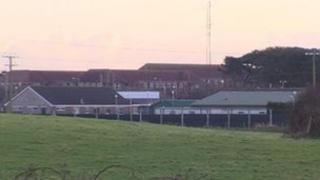 A man described by his solicitor as a nerd and a trainspotter has appeared in court on terrorism charges.
Ryan Lavery was arrested near Downpatrick on Wednesday.
Mr Lavery, 27, from the Ballymoat Road in Model Farm estate, is accused of collecting information likely to be useful to a person committing or preparing an act of terrorism.
The police allege his computer had photographs of vehicles coming in and out of Ballykinlar Army Base.
He is also charged with having a document likely to be of use to terrorists, namely a list of vehicle registration numbers found at a house he used to live in overlooking the entrance to the barracks.
Mr Lavery's defence solicitor argued his client was "a trainspotter, a loner, an anorak, a nerd with no friends" and if he was put beside an airport "he would take pictures of planes".
He added the accused's father works at Ballykinlar and his client had photographs taken of him holding a machine-gun at an open day at the base last year.
District Judge Mark Hamill refused bail for risk of committing further offences and said it was up to a High Court judge to decide if Mr Lavery was a trainspotter.