Six arrested in Limavady drugs operation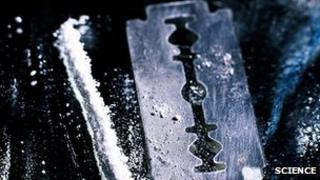 Six people were arrested during police drug searches in Limavady on Thursday.
Police said several significant seizures were made from houses in the Glens area of the town
Suspected cocaine with a street value of more than £30,000 and a "cannabis factory" in the attic of a house were found.
Herbal cannabis, cannabis resin, mobile phones, drugs paraphernalia and more than £2,500 in cash has also been seized.
A 24-year-old woman was arrested on suspicion of Class A drug offences and released on bail pending further enquiries.
A 31-year-old man, a 21-year-old man and a 20-year-old woman were also arrested on suspicion of committing drugs offences and released on bail.
A 24-year-old man was arrested for an unrelated offence of dishonestly using electricity.
While conducting their enquiries, police also arrested a 26-year-old man for assault on police, disorderly behaviour and resisting arrest.
"Any information we receive in relation to drugs use and supply allows us to further our investigations and rid our neighbourhood of these deadly substance," a police spokesperson said.