Bereaved family wants Pseudomonas inquiry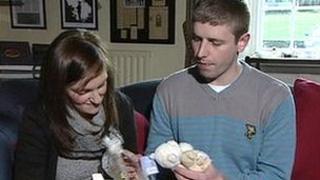 The parents of a baby who died in hospital from the Pseudomonas bacterium have called for a public inquiry into the outbreak.
Caoimhe Campbell and Gavin Burke's son Caolan was 10 days old when he died in Altnagelvin Hospital in Londonderry.
It happened in December, weeks before three babies died from a different strain of the bacteria in Belfast.
"We want a public inquiry into this because it'll get at the truth," Ms Campbell said.
While the couple acknowledge their son, who was born 15 weeks prematurely, was very seriously ill, they said he was showing signs of improving, before his death on 14 December.
"He was bleeding in the brain and he had an infection in his lungs - chest infection - and he was coughing up blood.
"Even with all that, he was doing all right - we were told he was coming off the breathing machine," Ms Campbell said.
"He would still be here if it wasn't for the infection, even though he had the bleeding of the brain, they told us he would still pull through."
The couple were told their child had died of Pseudomonas by doctors who visited their home after Caolan 's death.
In a letter dated 4 January, two consultants from Altnagelvin's paediatric department expressed sympathy to the couple on the loss of baby Caolan.
"The trust believes that the source of the infection was a tap and sink area and has taken measures to eradicate the Pseudomonas from the unit," they said.
"We hope that you can accept that we are deeply sorry for what has happened."
The Western Health Trust said it followed advice from the Public Health Agency and moved quickly to clean the affected area.
It said the tap was dismantled and cleaned and subsequently retested and found to be clear of Pseudomonas.
"The tap has subsequently been retested over the past five weeks and it has remained clear of Pseudomonas," the trust added.
Shortly after Caolan's death, another baby who had also tested positive for the bacterial infection was transferred from Altnagelvin to the Royal Jubilee Maternity.
While that child had a different strain of Pseudomonas, according to a letter sent by Chief Medical Officer Michael McBride on 22 December, at no stage was the Belfast Health Trust advised that a child had died at Altnagelvin.
Mr Burke said the two hospitals should have communicated better.
"The two hospitals should have communicated and brought out that this infection was about, to prevent it from killing any other babies," he said.
"It takes so long for test results to come back, they should have acted quicker and prevented the three babies in Belfast from dying."
Ms Campbell added: "When they found out our baby died and they knew there was an infection we all should have been told about it."
Mr McBride, the chief medical officer, told the BBC: "I believe that we took swift and decisive action to communicate to the rest of the health service that we had a Pseudomonas outbreak in Altnagelvin Hospital and we had traced the source of the infection to a tap."
He added: "This is about good infection control measures in out hospitals.
"The important thing is that we avoid contamination of taps, that was the purpose of this advice."