Baby and woman rescued from Glengormley fire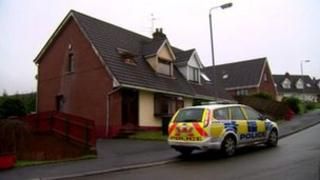 A young woman and a her 14-month-old baby have been rescued from a house fire in Glengormley, County Antrim.
The pair became trapped upstairs in the property at Hollybrook Avenue in the Hightown area, when the fire broke out just after 04:00 GMT on Thursday.
The 18-year-old managed to lower her baby down to neighbours outside the property. Firefighters then brought the woman out of the house.
The Fire Service said they were "very fortunate".
Neighbour Paul Lamb, who caught the baby, explained what happened.
"I came down to get some water and looked out and there was a girl hanging a baby from the window, so I put my tracksuit bottoms on and t-shirt and ran round," he said.
"As I went round, the girl asked me to catch her baby so I said: 'No problem.'
"I calmed the girl down and she threw the baby and I caught it."
Assistant Group Commander David Hayburn from the Fire and Rescue Service said the fire had broken out in the hallway, near the telephone table.
He said the woman's father heard her shouting for help, and then called neighbours who phoned the emergency services.
"The girl was able to pass her baby down to one of the neighbours just as our crews were arriving. Our crews then took the child and administered some oxygen prior to the ambulance crew arriving," he said.
"The girl herself then was still trapped upstairs and our own crews entered wearing breathing apparatus and located the girl and were able to calm her down and bring her out to safety."
Both mother and baby have been taken to hospital.
"The pair are very fortunate that the woman became aware of the fire," he said.
He said there were smoke alarms fitted in the property but they had melted in the heat.