Cavan reaps the benefits of All-Ireland Fleadh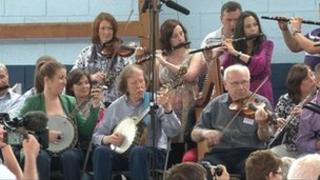 The All-Ireland Fleadh is billed as the biggest traditional music festival in the world.
If Londonderry is successful in its bid what exactly will it mean for the city and the surrounding area?
The fleadh began in 1951 as a competition to set standards in Irish traditional music.
For the last two years it has been held in Cavan and the town is once again preparing to host the event in 2012.
It has grown into a 10-day carnival of parades, workshops, sessions and street entertainment which attracts thousands of musicians and traditional music lovers from all over the world.
Joanne Hayes, the Tourism Officer for County Cavan, says the fleadh has something for everyone.
"We had over 200 events last year which catered for everybody from all walks of life, not just your real traditional music lovers," she said.
"We had events for families: drama, theatre, arts, food, crafts, heritage, tours of the town, tours of the county.
"It brings visitors from all over the world and gives you a wonderful opportunity to showcase what you have on your doorstep."
The fleadh does not just bring big cultural benefits but also financial rewards for a town that has seen its economy hit by the upheavals in the Quinn Group - one of the area's biggest employers.
In 2010 it is thought around 295,000 visitors came to Cavan spending 35m euros.
Last year was even bigger with 325,000 visitors bringing in an estimated 40m euros to the local economy.
Despite the troubles in the wider Irish economy, Cavan has big expectations for similar financial rewards when the fleadh takes place in August.
Lambeg drums
Jim Burke, the president of Cavan Chamber of Commerce, says the fleadh has been of massive importance to the local area and brings a feel-good factor to the town.
"What the Fleadh Cheoil has done for Cavan on the national and international stage and the long term is nearly immeasurable," he said.
"The people of Cavan can organise and can hold such a large event with over 300,000 people in attendance and do that successfully where everyone has a good time.
"The facilities are there, the bedrooms are there, the entertainment is there, and we welcome it with open arms."
The organisers in Cavan have been keen to embrace all musical traditions on the island of Ireland. Last year's parade through the town was led by Cullybackey Pipe Band and included several lambeg drums.
The highlight for many is the tutors' concert when dozens of traditional music teachers play together on stage.
In Cavan the concert has been held in the sports hall of the local college.
The organisers of the Derry bid had hoped that in 2013 it could be held in a venue like the city's Millennium Forum.
Their hopes now depend on the outcome of a vote by the central council of Comhaltas Ceoltoiri Eireann on Saturday.