Disposable income in NI falls 20% in a year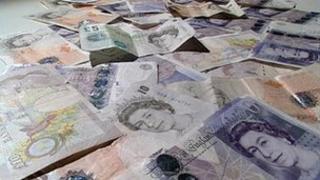 Research for the supermarket chain Asda suggests that the average Northern Ireland household saw disposable income fall by nearly 20% in 2011.
Asda publishes an 'income tracker' which is produced by the Centre for Economics and Business Research.
It uses official data from the Office for National Statistics.
It calculated the average NI household had £74 a week of discretionary income in December 2011 leaving them £17 a week worse off than a year earlier.
That is a fall of 18.7% suggesting Northern Ireland continues to suffer one of the harshest declines in household finances in the UK.
Average weekly earnings in Northern Ireland are among the lowest in the UK.
This means the cost of essentials like food and fuel make up a larger proportion of family budgets and therefore are harder hit when these prices rise faster than wages.
Asda said that one bright spot for Northern Ireland is that headline unemployment rates are improving and "this has helped to prevent income erosions declining even further".
The UK rate of inflation is also forecast to fall through 2012 which should also ease the pressure on some households.