Comber spuds get European protected status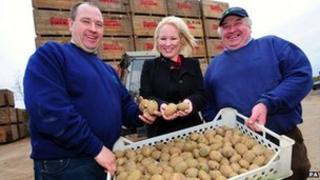 Comber early potatoes have been granted protected geographical indication(PGI) status under European law.
The potatoes are prized for their distinctive earthy, nutty flavour and characteristic soft smooth skin.
The granting of PGI status means the new season Comber potato joins an elite group of high quality European products, including Parma ham, Champagne wine and Stilton cheese.
Lough Neagh eels have already gained PGI status.
PGI status recognises the regional importance and distinctive characteristics of the Comber spud and means that only new season potatoes harvested from the fields of Comber and the surrounding area can be marketed as new season Comber earlies.
PGI legislation came into force in 1993 and provides for a system for the protection of food names on a geographical or traditional recipe basis.
Unique soil
The scheme highlights regional and traditional foods whose authenticity and origin can be guaranteed.
Under this system a named food or drink registered at a European level will be given legal protection against imitation throughout the EU.
In their application for the special status, the Comber growers pointed out the climate of the designated area means that the soil dries quicker, reducing the risk of frost in the winter months.
The area is dominated by Strangford Lough, the largest inlet in the British Isles. The soil surrounding the lough is red sandstone and gravel and means it is lighter and free draining.
This means that the growing season can start before other potato-growing regions in Northern Ireland and the potatoes can be harvested earlier than anywhere else.
The history of the designated area is synonymous with potato growing and is intertwined with the history of two Ulster-Scots families, the Hamiltons and the Montgomerys.
It is the area of the Hamilton lands and the Montgomery lands, including Comber, Greyabbey and Newtownards, where new season Comber potatoes are still grown.
The historical link with the original plantation venture is evident in that there are still a number of Hamiltons growing Comber potatoes.