Boston College tapes legal challenge 'thrown out'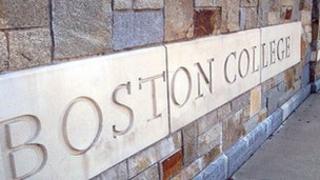 A federal judge has thrown out a legal challenge to the US government's attempts to obtain interviews with former IRA members.
The interviews are part of the Boston College Belfast Project which took place for five years from 2001.
The ruling has been considered a minor victory for US prosecutors but an appeals court will have the final say on the release of the interviews.
The men behind the project have refused to release any of their transcripts.
Former IRA member Anthony McIntyre and journalist Ed Moloney argue that the release of the documents could harm the peace process in Northern Ireland and risk the lives of some of those who gave confidential testimonies to the project.
US District Judge William Young ruled in favour of prosecutors after a brief hearing on Tuesday, finding that the two men who filed the suit do not have legal standing to bring the complaint.
Judge Young ruled in December that interviews with former IRA member Dolours Price could be turned over to US prosecutors but the 1st US Circuit Court of Appeals had temporarily blocked the handover.
Arguments in that case - scheduled for March - will determine whether those interviews and the interviews of seven other former IRA members will be handed over.
If they are, it is thought they will also be passed on to the PSNI.
The hearing was held at Boston College Law School as part of an annual programme in which Judge Young holds court hearings at a law school so law students can attend.
The Belfast Project involved academics, historians and journalists conducting interviews with former republicans and loyalists about their activities during the Troubles.
The interviewees were promised their accounts would remain confidential until after their deaths.
On Sunday, Sinn Fein President Gerry Adams said he had "nothing to fear" from the evidence collected in the Boston College tapes.