Belfast bus evacuated after fire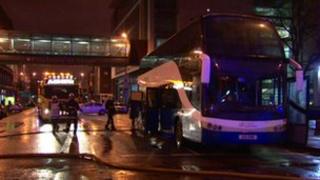 A bus with 20 passengers on board in Belfast city centre has been evacuated after a fire was spotted at the back of the vehicle.
The bus was in York Street when the fire was spotted by another motorist at about 19:00 GMT on Tuesday evening.
All passengers were taken off the double decker bus safely and no one was hurt in the incident.
The blaze was brought under control by the Fire and Rescue Service.
The Fire and Rescue Service's district commander for north and west Belfast, Martin McDonald, praised the reaction of the bus driver and the work of his crews in putting out the blaze.
"On arrival we were faced with a fairly well developing fire in the rear of the bus," he said.
"Conditions were very, very dangerous for the public in the immediate vicinity because of the large quantities of smoke that were being issued by the fire.
"Very quickly everyone was removed from the bus by the driver and we were here in two minutes and able to prevent a lot more serious incident occurring."