United unionism - are we about to see a DUP and UUP alliance?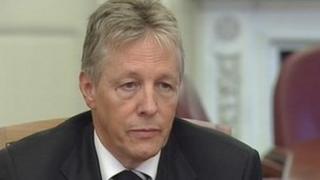 Peter Robinson has a dream: a single unionist party. But for some Ulster Unionists, this represents a nightmare: the DUP destroying the UUP.
Whatever one's perspective, this holy grail in unionism comes up every so often. Remember the talks involving the UUP, DUP and Conservatives that ended in acrimony in 2010?
Indeed, Peter Robinson is talking about it again - because his party and members of the Ulster Unionist party are formally talking, apparently about closer cooperation.
One issue that concerns some of them is protecting the office of first minister from falling under Sinn Fein control, should they gain the largest number of seats at the next assembly election.
The UUP MLA for Strangford David McNarry, one of those doing the talking, gave an interview on the subject to the Belfast Telegraph.
And when I approached him about it, he told me he was taken aback by the media's interest: "I don't know what all the fuss is about."
This is the same Mr McNarry who famously condemned Mr Robinson as an obstacle to unity because of his baggage in attacking the UUP for years.
I asked Mr McNarry about this over a cup of coffee in the Stormont canteen. His answer was intriguing: "These discussions have led me to change my mind."
He said the talks were about improving relations and cooperation between the DUP and UUP for the benefit of unionism, adding: "The two brands will maintain two separate integrities. I wouldn't talk to anybody about selling the UUP brand. It's not for sale."
The talks, he said, began after the last assembly election because of the message he and others heard consistently on the doorstep: "Why don't you two parties get together?"
This resulted in a formal discussion about unionist cooperation involving some Ulster Unionists and the DUP Finance Minister Sammy Wilson.
Tensions
Mr McNarry said the discussions have since evolved to include the DUP leader and First Minister Peter Robinson. And, as has been revealed previously, the Ulster Unionist minister Danny Kennedy, since the start of this term, has been attending pre-executive briefings with the DUP ministers.
This follows tensions in the last executive when Sir Reg Empey the UUP minister and Michael McGimpsey complained of not being kept informed of agendas and other executive business.
But while Mr McNarry will answer some questions there are others he will not be drawn on. Who attends these DUP-UUP discussions? Who sanctioned these meetings? How often do these meetings take place?
My understanding is that it has been convenient to hold them after executive meetings.
While Mr McNarry may be taken aback by the fuss, others in his party are privately unhappy about these developments and the interview he gave on the subject to the Belfast Telegraph political editor, Liam Clarke.
One UUP MLA, who did not want to be identified, was rather scathing. He said Mr McNarry has shifted from being in opposition mode in the last term to being in favour of everything. He added: "Tom Elliott knows at least one member of his team is extremely unhappy with McNarry and will be watching to see how the leader responds."
Another party source said the interview had "deeply unsettled the horses" and wondered for whose benefit it was given. He added: "The party has to focus on itself."
Asked if he thought any good could come of the discussions, he chuckled and replied: "What is Peter Robinson's agenda?"
Pragmatic
Harry Cullen, a spokesman for the NI Conservatives weighed in with an on-the-record statement. He said he was disappointed to hear that his own party's offer of greater cooperation had been rebuffed by Tom Elliott.
Mr Elliott was not available for a comment.
But the UUP leader did issue a statement after Mr Robinson gave an interview on the subject last week. Mr Elliott questioned whether a single unionist party was in the best interests of Northern Ireland and its people. He suggested wider choice brought more unionists out to the polls.
He did not deny there was common ground but pointed out areas of disagreement, including an 11 council model.
"If any proposals come forward the Ulster Unionist Party will obviously assess them. We will continue to act in the best interest of both Northern Ireland and unionism."
Two UUP sources told me to expect this issue of UUP-DUP talks to be on the agenda when Ulster Unionist MLAs meet again on Tuesday morning.
Of course, Danny Kennedy's attendance at pre-executive briefings with the DUP must suit the DUP. After all, doesn't it tie him more closely to executive decisions and therefore make it more difficult for his party to criticise Executive decisions?
On the other hand, Mr Kennedy could argue it gives the UUP more say in shaping decisions. It appears, however, after speaking to various UUP MLAs that some want more opposition, not less.
As for Mr Kennedy, all he wanted to say was that he attended these briefings at the invitation of Mr Robinson and they were for "pragmatic and practical reasons".
Whatever the outcome of the DUP-UUP talks, it's clear that Mr Elliott will have a challenge on his hands keeping all the factions in his party happy.
While Mr Robinson dreams, how easily will Mr Elliott sleep?