Death of Lady Lucy Faulkner of Downpatrick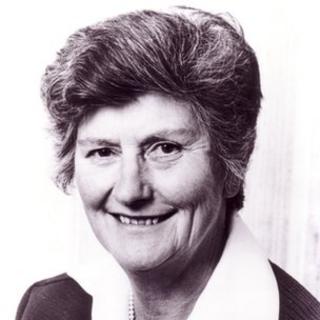 Lady Lucy Faulkner, the widow of Northern Ireland's last prime minister, Brian Faulkner, has died.
She was 87 years old. Lady Faulkner of Downpatrick was the first woman to serve as National Governor of the BBC in Northern Ireland.
She held the role from 1978 to 1985.
In that time, Radio Foyle was launched, and the Northern Ireland Broadcasting Council was formed. She died peacefully at home with her three children, David, Michael and Clare at her bedside.
Peter Johnston, director, BBC Northern Ireland, said: "Lady Faulkner played an important and influential role in the development of the BBC. She helped to secure the creation of a local Broadcasting Council and was an effective advocate for additional network programming, including drama from Northern Ireland.
"She was actively involved in the establishment of BBC Radio Foyle and in early discussions about the development of new studio facilities at Blackstaff. She was also a significant figure within the wider BBC and brought a strong local voice to decision-making in London.
"Much of what she achieved as a BBC national governor continues to provide benefits for BBC audiences today."
Mr Johnston said Lady Faulkner's term as national governor coincided with a period of intense political uncertainty in Northern Ireland. This involved many editorial challenges for the BBC.
"Lady Faulkner was always attentive to the well-being of staff, in sometimes difficult situations, and the needs of BBC audiences. Her death has created a real sense of loss amongst the many people that she worked with in BBC Northern Ireland and our thoughts are with her family at this time," he said.