No active infection for 24 babies at Belfast Royal Maternity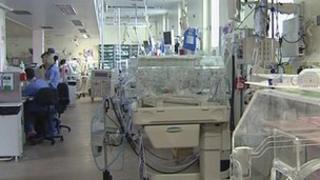 None of 24 babies at Belfast's Royal Jubilee Maternity's neo-natal unit have shown signs of an active infection of Pseudomonas.
Over the past fortnight, three babies died after contracting the bacterial infection.
Five babies are being closely monitored because tests showed they have the bacteria on their skin.
However, doctors have stressed that this is not causing an active infection.
Northern Ireland's chief medical officer Michael McBride said the priority was to get on top of the infection and to support parents.
"It is tragic that three babies have died and it is reassuring that no babies have shown any sign of active infection," he said.
"It is very worrying for parents whose babies have the infection on their skins."
Mr McBride said everyone carries millions of bacteria on their skin which is not a sterile environment.
"What we do know are all the steps that the staff have put in place to get on top of the infection," he said.
"We are not complacent and we will leave no stone unturned until we get this under control. The priority is to get on top of the situation and support parents at this time."
The chief medical officer said there was no evidence that the infection had spread and the area where it was found would remain sealed off and unused.
He moved to reassure women that the labour ward and ante-natal areas were unaffected.
Breedagh Hughes, director of the Royal College of Midwives said it was not unusual to carry bacteria on the skin.
"So long as it stays on the outside it does not cause a problem," she said.
"It is when it crosses the skin barrier and gets into the blood system that it becomes dangerous.
"Although these babies are carrying pseudomonas, they will be treated and there won't be a risk then of causing a serious infection."
Health officials are trying to identify the source of the outbreak.
Experts are considering a number of possibilities, but a recent refurbishment of the unit last November will come under particular scrutiny.
A spokesperson for the trust said the water system and the sinks were being included in a range of environmental tests.
BBC NI health correspondent Marie Louise Connolly said: "The deep clean is over, but it is crucial that the authorities now move quickly to identify the source of this infection.
"The maternity unit is open. We need reassurance that the building is safe and they want to do that."
She said that the source of the infection could be anything from hand hygiene to a member of the public visiting the unit.
The first baby died on 6 January and the second on 13 January. A third baby died on Thursday night.
Pseudomonas aeruginosa is found widely in soil and stagnant water. It does not usually cause illness in healthy people but can pose a serious threat to people with weak immune systems.