Deep clean of Belfast hospital's neo-natal unit complete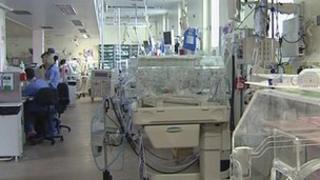 Staff at Belfast's Royal Jubilee Maternity hospital have finished a deep clean of the neo-natal ward.
It follows the death of three babies from Pseudonomas bacterial infection.
Parents of infants at the unit are facing an anxious wait for test results to see if their children have contracted the infection.
A trust spokesperson said there was "a need to be entirely sure about the cause of the outbreak" before the unit was re-opened.
The trust said investigations were continuing and was ''hopeful'' that the majority of the parents would be told the results on Monday.
On Saturday night, Health Minister Edwin Poots said there had been no new cases and there was no further need to transfer mothers outside Northern Ireland.
He said testing had shown six confirmed cases.
The three infants died over a two-week period this month. All the babies in the unit were tested to see if they had the infection.
In a statement, Mr Poots said the neo-natal network was "managing well".
"As one would expect in circumstances such as this, there is currently extra pressure on the system.
"However, with the help of all neo-natal units in Northern Ireland our service is coping."
Pseudomonas can cause breathing difficulties and tissue damage.
The infection can live on surfaces for several days, one expert told the BBC, and a team of specialists was working to identify the Belfast source.
The neo-natal unit has the highest number of intensive care cots in Northern Ireland.
It was the only part of the hospital affected.
A helpline has been set up for parents on 028 90 635 389.