Series charts families living in Coleraine's Ballysally estate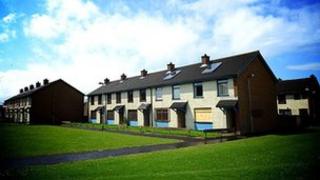 It has twice the national average of people on unemployment benefit, is one of the biggest housing estates in Northern Ireland and is the setting for an ambitious new fly-on-the-wall documentary series from BBC Northern Ireland.
In The Estate, cameras went behind closed doors in a Coleraine housing estate in Ballysally, to follow the lives of some of the residents across 12 months - when money was tight and times were tough.
Coleraine is a gateway to the north coast, a world heritage landscape.
But on the edge of the town is Ballysally estate, somewhere tourists do not often tread.
Its reputation is not good. In November 2010 that was something I knew nothing about. I had never even heard of Ballysally. But that was before I spent a year filming on the estate.
Like any large housing development, Ballysally is made up of people of mixed fortune and outlook. Residents feel their strong community spirit has been ignored by the media, depicting the place in a poor light.
So initially people were suspicious of us and our cameras and sceptical as to why we would be interested in showing their lives on screen. It took some convincing but the reason was quite simple.
Coleraine is the first place in Ireland, humans settled 10,000 years ago. We wanted to find out what life was like for the people who live there now. 2011 was set to be a year of unprecedented government cuts and economic hardship so how would ordinary people survive?
We knocked on doors, hundreds of doors. Some were answered. Some were not.
I got chased by dogs and hissed at by cats. But total strangers opened their doors and welcomed me into their homes and, bit by bit, into their hearts.
Over the year I filmed them before they woke up in the morning and as they went to bed at night. We shared tears, laughter, hopes and bitter disappointments.
There were marriages, births and a very sudden and tragic death.
Behind the net curtains, gable end murals and boarded up windows of Ballysally, I found everyday people with commonplace problems, struggling against a system that often lets them down.
Resilience and humour
In a year that at times appeared bleak, it was the resilience and humour of a group of ordinary people surviving in extraordinary circumstances that shone through.
People like Jimmy and Denise, loving parents to two children - six-year-old Dylan and nine-year-old Lauren, who relies on a shunt in her head to keep her alive.
Lauren has spina bifida and family life revolves around hospital appointments and coping with her condition.
Even the tiniest of things must be planned with military precision. But there's not an ounce of self-pity in Jimmy or Denise.
Their eyes reflect the joy of having a child with special needs. After spending just a little time with Lauren I no longer noticed the splints, the walker or the wheelchair.
I just saw a little girl with a big personality who plans to be a make-up artist and marry Justin Bieber.
Fifteen-year-old Kelly Ann knows her own mind. She too likes make-up and boys, but hates school.
She does not see the point of going if she won't get a job anyway. Capricious and comical, Kelly Ann could turn her hand to anything, given the right opportunities.
Her mother, Louise, is driven mad trying to get her up for school every morning.
Louise wants her five kids to get the education - and the chances - she never had.
She despairs at the fact that Kelly Ann seems determined to follow her own path, wherever it may lead her.
Boredom
The estate is home to nearly 3,000 people. There is one shop, a school, three churches, a cafe and two community centres.
But there is not much to keep the many unemployed young people of Ballysally occupied. Noel is determined to change that.
The flute player is something of a pied piper on the estate. He started a band and his mission is to get every young person on the estate involved. For him, Ballysally Young Defenders is more than just a flute band.
It is a means to save disaffected youths from the perils that come with boredom. As Noel points out this is a problem facing "not just our estate, it's every estate".
Noel's band is a lifeline for young men like Kyle, who has struggled with self-harm and drug addiction.
But, thanks to his friendship with Noel and the camaraderie he finds in the band, Kyle's life takes a turn for the better.
Addiction is the dirty secret of towns, villages and estates all over Northern Ireland. Ballysally is no different.
It is not a place you see drinking on street corners or anti-social behaviour at night, but behind the closed doors of countless houses and flats are people waging war against their own demons and battling the bottle.
Martin is smart and funny and he can't stop drinking. Before moving to Ballysally he spent years living rough on the streets of Dublin.
When he told me that he used to sit begging on the Halfpenny Bridge, I wondered how many times I walked past without even noticing his smile.
Martin's alcohol support worker is Emma, a 25 year old who is wise beyond her years. She is on the front line helping chronic alcoholics like Martin survive day to day, yet cuts in government spending mean her job is now under threat.
When she was given a month's notice her first thoughts were how her clients would cope without her.
Preconceptions
Another Emma told me of the devastating effect addiction had on her family.
It forced her to leave her husband in Canada and move to Ballysally with her young baby and little else.
Not yet 30, Emma has had to overcome heartache and tragedy but she has come out fighting, literally.
She "sweated the bit out" to balance her part-time job with care for her now three-year-old daughter.
She took on the Housing Executive when her benefit was withdrawn because of her 16-hour a week job.
She volunteered at the local community centre, organised events for charity, achieved a place in university, and even pulled off learning to box.
But perhaps her greatest challenge was persuading me to attempt zumba and dancercise with her.
Apart from finding out I have two left feet and the fitness of an 80 year old; a year on the estate taught me plenty.
It is best summed up in the words of Ballysally resident, Alan: "Don't judge a man until you've walked a mile in his shoes".
Definitely I was forced to question my own preconceptions. It wasn't always easy.
I was at times dismayed at the obstacles that life threw on the paths of this estate, but what blew me away was how people picked themselves up, dusted themselves off and carried on regardless.
Ballysally today may be a very different place to the settlement founded in Coleraine all those thousands of years ago, but the people living there now have shown me, through gritted teeth and with a twinkle in their eye, that the human spirit is very much alive and kicking.
The Estate begins on BBC One Northern Ireland on Monday, 23 January at 22:35 GMT