County Tyrone Orange Hall daubed with republican graffiti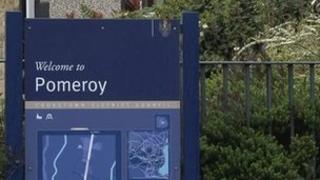 A County Tyrone Orange Hall has been damaged and daubed with sectarian graffiti.
The Ballymacall Lodge Hall between Pomeroy and Dungannon was attacked some time between Thursday night and Saturday morning.
Security lights and drain pipes were damaged and the republican graffiti was painted on the hall.
The hall has been damaged twice before in arson attacks and it is the second time it has been vandalised.
The Orange Order are concerned that it is an attempted to raise tensions in the area ahead of the parades season.
A Grand Lodge spokesman said: "Fortunately, damage was relatively minor on this occasion, but it is particularly worrying as the Twelfth is being held in Pomeroy this year.
"We know there are people who do not want any Orange presence in the area and we would ask local community leaders to condemn this attack without reservation."
Police have appealed for anyone with information about the attack to come forward.