Martin McGuinness 'still pondering' meeting with Queen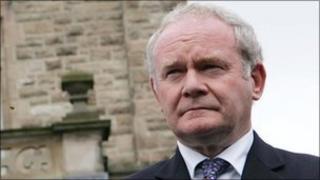 The Deputy First Minister says he has not ruled out meeting the Queen in the future.
Martin McGuinness was asked about such a meeting after attending an event to promote Northern Ireland at St James's Palace in London during the week.
Speaking on the BBC's Inside Politics programme on Sunday, he said he was still pondering the issue.
The Sinn Fein minister said the visit by the Queen to the Irish Republic in May had made an impact on him.
"I've made it clear that the visit of Queen Elizabeth of Britain to the south, was something that we looked at with considerable interest," he said.
"And I think the fact that she was prepared to recognise the importance of the Irish language; that she was prepared to stand in a very dignified way to honour those patriots who struggled in 1916 to bring about a free and independent 32-county Irish Republic, that made an impact upon me.
"So that's an issue that I will ponder and I wouldn't rule anything out."
When the Queen made her first visit to the Republic of Ireland in May, Sinn Fein did not take part in any of the main ceremonies.
However, last September, Mr McGuinness said he would be prepared to meet all heads of state "without exception", if he was elected President of Ireland.
Mr McGuinness secured the necessary support of independent members of the Irish parliament for his nomination, but failed to win the presidency.