Who were the men charged with Massereene murders?
By Julian O'Neill
BBC Newsline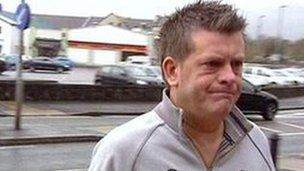 Brian Shivers had never been in the public eye before the Massereene trial, in contrast to his co-accused Colin Duffy.
For Mr Duffy, this is the third time he has walked away from murder charges.
It is almost a re-run of history for Colin Duffy.
In 1996, the Lurgan republican walked free from the Appeal Court in Belfast after a conviction for murdering former UDR soldier John Lyness was quashed.
He had spent three years in custody, almost the same length of time he has been on remand over the Massereene murders.
In 1997, charges of murdering two policeman, John Graham and David Johnston, were dropped before any trial and although the Rosemary Nelson Inquiry heard a police claim he was a driving force in the north Armagh IRA, he denied ever having been a member and claimed that he had been persecuted by the police.
Brian Shivers on the other hand lived a life unnoticed until now.
Police sources said he was not known to the PSNI and he had no criminal record.
During his trial, he told Antrim Crown Court that he had nothing to do with the crime.
He said he had been to about three or four meetings of the republican political group Eirigi at the invitation of his friend Dominic McGinchey, but had never joined the group, nor had he been inspired by it and he had no desire to be involved in anything political.
He claimed he supported Sinn Fein and the peace process.
Shivers suffered from cystic fibrosis from an early age and in the November before the attacks on Massereene Barracks, he had gone to the hospital with his fiancée to be told he had only five or six years left to live.
He said that was hard hitting and said he had other things in life to do rather than getting involved in anything like murder.
Beginning a mandatory life sentence on Friday night, he may spend what is left of his life behind bars.