Massereene killings intensified Northern Ireland peace efforts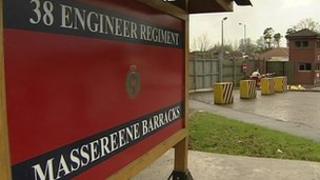 The killing of two young soldiers in Antrim was aimed at wrecking the peace process, but it ended up having the opposite effect.
The fatal shootings by a Real IRA gun gang brought people and politicians closer together in Northern Ireland.
Three years on, the peace process is stronger than ever. Dangers remain but the power-sharing executive at Stormont has never been more secure.
That will be of little comfort to the families of sappers Patrick Azimkar and Mark Quinsey, who were shot down in a hail of 63 bullets on a Saturday night in March 2009.
The families are still struggling to cope with their loss. They still find it difficult to understand why their loved ones were killed.
Like most people, they assumed that the days when soldiers in Northern Ireland were murder targets for republican terrorists were over.
A total of 709 soldiers were killed during the so-called 'troubles' but none since 1997 when Lance Bombardier Stephen Restorick was shot dead by an IRA sniper.
Patrick Azimkar's mother, Geraldine, and her husband, Mehmet, were much more worried about him going to Afghanistan.
She said: "We'd never worried about him being in Northern Ireland.
"We knew, of course, about the past but it had been quiet for a long time."
They were not the only people surprised at the sudden outbreak of violence. Across Northern Ireland, there was shock.
The situation was compounded two days later by the murder of a policeman, Stephen Carroll, in Craigavon by the Continuity IRA.
For those who lived through the bad days in Northern Ireland, there was a feeling that history was starting to repeat itself.
People realised that the dissident groups did not have the same weaponry as the Provisional IRA, or the level of support, but the fear was that violence was returning. It felt like the clock was being turned back.
What happened next was a huge outpouring of civic and political outrage. Peace rallies were held with people of all ages, and all religions, holding banners saying 'No Going Back'.
Politicians at Stormont quickly recognised that separate statements of condemnation would be of little use. Unionists and nationalists instead spoke with one voice, and stood shoulder to shoulder at news conferences.
In perhaps the most extraordinary moment of all, Sinn Fein's Martin McGuinness - a former IRA commander - stood beside Northern Ireland's then chief constable Hugh Orde and called dissident republicans "traitors to the island of Ireland".
It was language few thought a senior Sinn Fein figure would use. Even Mr Orde looked stunned.
All concerned were aware that the peace process was being challenged, and they worked together to ensure that it passed the test.
'Armed and active'
At the same time, there was a recognition that some politicians may have taken the process for granted and forgotten the 'bicycle rule' - if it is not going forward, it may start to wobble, and it may then fall.
There was a joint effort in the months ahead to make sure that events at Stormont showed that politics worked, violence did not.
In the 34 month period since the killings, the police have cracked down on dissidents north and south of the border.
Attempts have been made to import weapons from eastern Europe but three months ago in Lithuania a Real IRA gun-runner, Michael Campbell from County Louth, was convicted after being caught in a MI5 sting.
The dissidents do, however, remain armed and active, especially the relatively new faction Oglaigh na hEireann.
Last year, Constable Ronan Kerr was killed in Omagh by a booby-trap bomb.
In the words of the Northern Ireland Secretary Owen Paterson there remains "a very dangerous, unpredictable terrorist threat".
Nonetheless, the fears of widespread violence have not materialised. The Real IRA had hoped that by killing two young English soldiers, its ranks would be boosted. That did not happen.
The Azimkar and Quinsey families received hundreds of letters of sympathy after the killings, many of them written by people from Belfast.
The murders demonstrated that Northern Ireland is still not the place that it should be.
But the events since the killings showed it is not the place it once was.