Newry firm wins 5m euros boat contract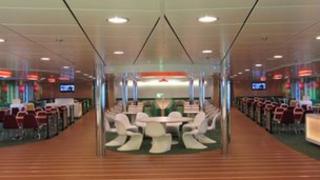 A Newry company has won a five million euros contract to refit a Swedish ferry.
MJM Marine beat off international competition from half a dozen other companies for the job.
The firm, which was founded in 1983, said the contract would lead to the creation of 16 new jobs both on the shop floor and in office positions..
The vessel, which is part of the Scandlines fleet, sails between Sweden and Denmark.
MJM managing director Jonathan Guest said the ship would come out of service at the end of February, then go into dry dock in a shipyard in Sweden.
"We will basically strip everything out, right back to the steel work," he said.
"And then manufactured from our factory in Newry, we will be sending out all the furniture and equipment, fitting out the entire vessel.
"Bringing it up to a very high standard."
In late 2011 MJM, successfully completed work on the Stena Superfast vessels, operating on the new Belfast Cairnryan route and has worked with a number of shipping companies in the past including Carnival Cruise Lines, Cunard, Holland America and Royal Caribbean.