Doctor would not be treated in Antrim Hospital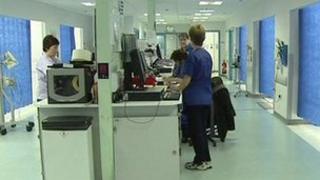 A GP who works in the Northern Health Trust has said Antrim Area Hospital is under so much pressure he would not want to go there.
In an email leaked to the BBC last week, senior health trust management were told that patients should be sent home from the A&E to free up beds.
It said the public should be sent to the Mater Hospital in Belfast instead.
A local GP, Josef Kuriacose, said the situation was unacceptable.
"One patient waited eight hours to be seen," he told the BBC.
"Another patient, (with) symptoms of stroke, had to sit in a chair for some considerable time.
"If you are ill in this area, it's just horrible. If I became ill I'd have to go to Antrim A&E and I don't want to go there."
The public have been complaining about the long waits and the number of people on trolleys.
Antrim Borough Council is now calling on the public and staff to contact them with their experiences. These will be treated in the strictest confidence.
In a statement, the Northern Trust said they were happy to speak to Antrim Borough Council or councillors about the services that they provide.
Last Friday, an email was sent to senior management which revealed a bed shortage in all health trusts the previous weekend.
The leaked email also advised of a "bed crisis" in Antrim Area Hospital.
Discharge patients
It said that Antrim, the Ulster and Belfast emergency departments were badly affected with a number of patients waiting many hours on trolleys for admission.
The email said unscheduled admissions had added pressure.
In order to free up beds, staff were asked, where possible, to discharge patients.
With a bed crisis developing in the Northern Trust, staff in Belfast were advised that only the most urgent planned admissions could go ahead.
Health Minister Edwin Poots later admitted there were "concerns about the pressures on emergency departments".
Last week, the Northern Health Trust has apologised unreservedly to anyone who had to wait for a bed at Antrim Area Hospital.