Raymond McCord calls for action over UVF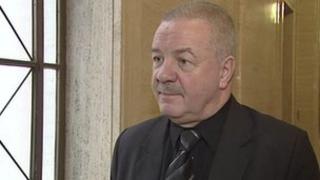 Victims campaigner Raymond McCord has called for action before another young person is killed by the UVF.
He was speaking after meeting the NI First Minister Peter Robinson.
Mr McCord has alleged the UVF was behind a brutal assault on a young Shankill Road man last week.
Police have not linked the UVF to the assault on 23-year-old James Kelly. He is a nephew of Bobby Moffett who was murdered by the terror group in May 2010.
Mr McCord, whose son was murdered by the UVF, said the paramilitary organisation had failed to end its violence.
He said he was heartened by his meeting with Mr Robinson, but was concerned that unionist politicians and the police are not doing enough to stand up to the UVF.
"We need action," he said.
"Words aren't enough for the people.
"The way it is going some young lad is going to be killed by these people and then we are going to have the unionist politicians coming out and saying `this is a terrible thing`."
Mr McCord said he expects Mr Robinson to raise the issue of UVF violence with the PSNI Chief Constable Matt Baggott next Monday.
James Kelly's mother Lily, and Tracey Coulter, whose father was shot dead by the UVF in a loyalist feud in 2000 also attended Wednesday's meeting with the first minister.
Ms Coulter criticised the lack of support from police and politicians over what she said was an ongoing campaign of intimidation against her.
A DUP spokesman said North Belfast MP Nigel Dodds had raised the assault on Mr Kelly with the PSNI's area commander in a meeting last week.
Mr McCord has conducted a long campaign against the UVF, which killed his son, Raymond Jnr, in 1997.
The 22-year-old, a former RAF man, was beaten to death and his body dumped in a quarry in Newtownabbey, County Antrim.
In a statement on Wednesday, the PSNI said that on a day to day basis, police officers across north and west Belfast "deliver a professional policing service".
"Working in partnership with local communities, police seek to enhance community safety, by bringing individuals who are involved in criminal behaviour before the courts," it added.
"Ongoing liaison takes place with elected representatives, DPP members, community representatives, residents, local businesses, educational establishments and faith based groups to establish local concerns and find long-term solutions to problems identified."
The PSNI said that anyone with concerns in relation to a policing issue in the Shankill Road area should contact Tennent Street Police Station or speak to a member of their neighbourhood policing team.