Are parents harming their teenagers by allowing them to drink at home?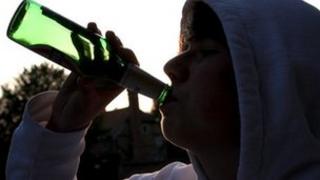 The Irish Minister for Health Roisin Shortall has suggested that parents who allow their teenage children to drink alcohol at home may be contributing to substance abuse among young people.
She acknowledged that although many parents did so as a way of fostering responsible drinking, she suggested they could actually be doing more harm than good.
Minister Shortall said alcohol was doing more damage to young people than illegal drugs.
She said parents needed to think of the example they were setting, both in their own consumption and their tolerance for allowing their teenagers to consume alcohol.
Rosalyn Lundy from Portstewart is a mother of six children aged between five to 28.
She allowed her children, when they reached the age of 15 or 16, to have a drink for a special occasion in a controlled environment.
"They know that it is OK, they have been given a drink in the house with us but they are not permitted to do it outside," she said.
"I think it takes a big stigma out of it and my children have said that helped them, that it wasn't this mad craving when they were older that they had to get drink.
"It worked for me, but it may not work for another family."
Mrs Lundy said herself and her husband were not big drinkers.
"If children see you drinking a lot round the house then they might think this is the thing to do as well," she added.
Dr Paul Darragh is chair of the British Medical Association in Northern Ireland.
'Complicated'
He works at the Mid-Ulster and Antrim Area Hospitals and has worked with young people under the influence of alcohol.
Dr Darragh said the issue of whether to allow young people to drink was a "complicated" one.
"Parents have a responsibility to engender a healthy attitude on the use of alcohol," he said.
"The British Medical Association policy is not to call for a complete abstention.
"We're not killjoys, we're asking for the responsible use of alcohol and part of that is that parents engender a sensible response to alcohol.
"Part of that would be not only knowing where their children are at times so they aren't out drinking irresponsibly but also showing by good example the use of alcohol and that includes in the home."
He said teen drinking is a "serious" issue.
"It can lead to all sorts of problems, not just the direct physical effect, there's the psychiatric problems that can arise from it, anti-social problems, young girls can end up leaving themselves vulnerable to underage sex, venereal disease, unwanted pregnancy.
"The amount of complications that can arise from this behaviour is much more than just getting drunk and having a hangover in the morning."
Andrew Percy, a lecturer at Queens University Belfast, said: "There is an issue around how much teenagers are drinking now and they are drinking a lot more alcohol than my generation were drinking."
He said the minister was "almost in a catch 22 situation" of trying to give a very simple message to parents around issues which are very complicated.
"It depends on the relationship the parents have with the children and the age of the child," he said.
Consequences
"It also depends on the environment in which the child is living."
Mr Percy said parent's actions sometimes had unintended consequences.
"In one of the interviews we did with some young people, they described a situation where a young lad - his mother found out that he was drinking and as a result reduced the amount of time that he was allowed to spend outside of the home," he said.
"As a result rather than changing his drinking behaviour in response to the parents' behaviour, he simply just reduced the amount of time that he drank but drank faster so rather than drinking less, he consumed the same amount of alcohol but in a much shorter period which meant that he got drunk much quicker and then ended up getting into a lot of difficulty as a result of it."
Maria-teresa Ruiz grew up in Spain.
"My grandmother used to give me a small glass of sweet wine before my food," she said.
"She claimed that would increase my appetite and make me hungry.
"I remember her giving me these glasses of very strong wine and I actually remember being hungrier, but I also remember that it had an affect. I remember being a bit, you know not 100%."
The mother of two now lives in Belfast and has two children, aged three and nine.
"I've been living here for 11 years and I just have the impression young people and even adults, they just go and drink and drink until they are nearly unconscious," she said.
"In Spain it is more social, people are not in a rush to drink, it is more with a bit of food.
"I'm not that old but I have never seen anything like I have witnessed in Belfast - these really young girls lying on the street, it is so dangerous.
"Alcohol is more civilised in Spain, I think here people just go out on purpose to get plastered."
A Department of Health survey on adult drinking in Northern Ireland was published on Wednesday.