Northern Ireland cigarette vending machine ban due in March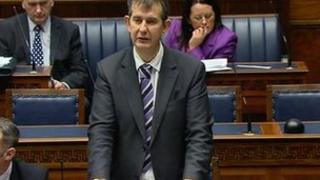 Cigarettes will no longer be sold in vending machines in Northern Ireland from 1 March 2012.
MLAs agreed the move during a debate in the assembly on Tuesday afternoon.
It is being introduced to drive down the number of children and young people who smoke by limiting their unsupervised access to the machines.
Health Minister Edwin Poots said the regulations would bring Northern Ireland into line with the rest of the UK.
"A survey in Northern Ireland in 2010 highlighted that for 14% of smokers aged between 11 and 16 years, cigarette vending machines are a usual source of tobacco," he said.
"Children and young people are particularly vulnerable consumers in that they are generally unaware of the long-term health implications of tobacco use.
"The main aim in introducing the legislation is to prevent children and young people from being able to access tobacco from a largely unsupervised source."
England commenced its ban on sales of tobacco from vending machines from 1 October 2011.
Regulations have also been made in Wales to commence from 1 February 2012 and Scotland intends to follow suit shortly.
Mr Poots said he recognised that banning the sale of tobacco from vending machines would not, in itself, solve the problem of children's smoking.
"However it will remove an easily accessible source of tobacco from underage children, as well as support the thousands of smokers who try to quit each year," he said.
"This links in with the two main objectives in my department's new tobacco control strategy which is due to be published later this month.
"These regulations represent another important milestone in our pursuance of the long-term goal - that of a tobacco-free society in Northern Ireland."
Legislative controls on tobacco is the responsibility of district councils' environmental health officers.
It is estimated that there are 1,800 tobacco vending machines in Northern Ireland.