Ex-RUC officers in 'sensitive' policing jobs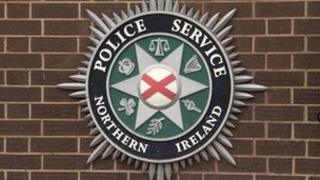 More than three quarters of civilian staff employed by the PSNI on temporary contracts are former RUC officers who retired under the Patten redundancy scheme.
Nearly half of them are employed in the most sensitive areas of policing, including intelligence, the BBC can reveal.
The rehiring of retired RUC officers is a contentious issue for the PSNI.
Legislation in 2003 stated anyone who left the police with an enhanced Patten package would have to pay back their lump sum if re-employed as a police officer within five years.
But the prohibition did not apply to anyone rehired in a civilian capacity.
For years now, Sinn Fein and the SDLP have been asking the police to provide details of the number of former RUC officers rehired.
Repeatedly they were told it was not possible to provide the details because the PSNI did not keep a record of the past employment of civilian staff.
That position has now changed.
The PSNI has previously revealed that it is currently using the services of 399 staff supplied by a recruitment agency on temporary contracts.
In a letter to the Policing Board, it has now revealed that 304 of them are former RUC officers.
Another document obtained by the BBC reveals that nearly half of them are involved in the most sensitive areas of policing.
Sixty-three retired officers have been rehired by the intelligence branch of the PSNI.
Fifty-nine are working in the department that investigates all serious crime, including terrorist incidents.
A further 19 are working for specialist operations who respond to serious criminal and terrorist incidents.
The PSNI has defended the practice, arguing that it needs the range of highly-specialised skills and experience possessed by the former officers it has rehired.
"They do absolutely fantastic work in some very challenging areas and their experience and expertise is of huge benefit to us," Deputy Chief Constable Judith Gillespie told a meeting of the Policing Board last week.
"It makes eminent sense to employ staff of significant experience for a short period of time on a time bound contract."
She went on to acknowledge that the practice is a matter of public concern and said the police have a plan to reduce the reliance on temporary staff, but not to end it completely.
DUP members of the Policing Board support that position. They say any move to exclude former RUC officers from civilian roles within the PSNI would be discrimination, and they question the motives of the critics.
"Some individuals are determined to have a witch-hunt against former RUC officers who have, through their skills and knowledge base, been re-employed into the police force," said MLA Jonathan Craig .
"They cannot be discriminated against on any grounds, including their former employment."
Sinn Fein has asked the government's spending watchdog, the audit office, to investigate the practice, which it said should cease.
"This is not about a witch-hunt against former members of the RUC," Policing Board member Gerry Kelly said.
"This is about good policing, this is about good governance of policing, and really you wouldn't get away with this in any other organisation.
"Many of these former officers are now involved in very sensitive roles, but they are not accountable to the police ombudsman, they are not accountable to the Policing Board, they do not take the police oath and they are not accountable in terms of the code of ethics.
"The question has to be asked, who are they accountable to?"
A former director with the health service who is now an independent member of the policing board said she also has serious concerns about the practice.
Joan O'Hagan is vice chair of the board's human resources committee.
"My concern is with regard to the governance, accountability and the financial consequences of this action. I do not subscribe in any way to any suggestion of a witch-hunt for former RUC officers," she said.
"This is a complex issue that I am concerned about. It is not good practice and does nothing for public confidence."
The PSNI has said it will come back to the Policing Board with details of plans to reduce the number of retired officers employed on temporary contracts by the end of this year.
That is unlikely to be enough for those critics who say the practice should cease completely.