Changes to pre-school education announced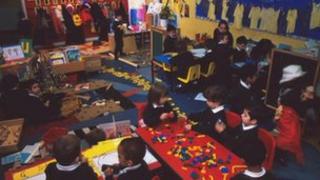 The education minister has announced changes to pre-school education in NI.
Children born in July or August will no longer get priority for places as the department said that had disadvantaged younger children entitled to a place.
The preference given to families receiving benefits will be re-assessed.
John O'Dowd said he would review and broaden the definition of social disadvantage. That could include preference given to traveller pupils and children in care.
An additional £1.25m has also been allocated to private and voluntary pre-school providers for this year. This equates to an additional payment of £150 per place.
Mr O'Dowd said it was his priority to make sure all young people received a high-quality education.
"That applies to pre-school education in the same way as to any other sector," he said.
"In the current year, there are over 23,000 children in funded pre-school education with a budget of approximately £50m.
"This is a significant investment. The vast majority of pupils are allocated places in the provider they want, and they all receive a good quality pre-school education which prepares them for the next important phase of primary school and indeed for later life."
He also said there was concern at the number of two-year-old children still getting places and intended to tighten up the rules.
Responding to the outcome of the Pre-School Admissions Review, Siobhan Fitzpatrick from Early Years said the process had created "anxiety and concern".
"We hope this will improve the experience of parents seeking high quality pre-school education for their children," she said.
"Our concern has always been that children are provided with high quality accessible pre-school provision."