Muhammad Ali's Irish roots recalled as he celebrates 70th birthday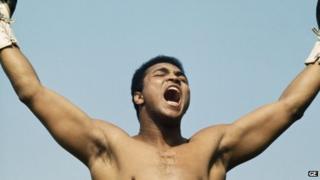 "Age is whatever you think it is. You are as old as you think you are."
Search the internet for famous one-liners from legendary boxer Muhammad Ali and you won't have to look very far.
He is probably the most quotable sportsman in living memory, so it was no surprise when the man who many thought had kissed the blarney stone was found to have Irish roots.
The three-times world heavyweight champion, who celebrates his 70th birthday on Tuesday, took time out in 2009 to visit Ennis in County Clare, the home town of his ancestor Abe Grady.
Frankie Neylon was the mayor of Ennis when Ali was given the freedom of the town and said it was a dream to meet his childhood hero.
He said that despite suffering from the onset of Parkinson's Disease, the international superstar had lost none of his charisma.
"It was one of the greatest days Ennis has ever had," he said.
"Thousands of people came from all over the world and all over Ireland.
"We thought he was only going to be with us for 30 minutes, but he arrived an hour before the visit.
"He spent about five hours here in total when we were expecting a flying visit.
"If you could have bottled the atmosphere that day you would have made great sales.
"People were speaking to each other in a way you would never see."
Mr Neylon said one particular moment from the day remained in his memory which he felt illustrated Ali's powerful personality.
"I always remember this young fella he approached who was in a wheelchair, this was in front of seven or eight thousand people," he added.
"It was in the Turnpike Road area where his ancestors were from.
"Amongst everyone there was this silence.
"Muhammad Ali bent down and put his arms around the young fella, it was a fantastic moment, a powerful human moment."
Ali has visited Ireland on a number of occasions, fighting Al 'Blue' Lewis in July 1972 at Dublin's Croke Park and attending the opening of the 2003 Special Olympics.
The contest with Lewis was part of a worldwide tour he embarked on after his defeat to Joe Frazier in 1971.
During his visit, Ali was reported to have talked with everyone from politicians such as Irish Prime Minister Jack Lynch and Mid-Ulster MP Bernadette Devlin to roadsweepers, pub revellers and the actor Peter O'Toole.
It reflects the global impact of the man and how he could straddle different generations and backgrounds.
Manchester United
BBC boxing commentator Jim Neilly has encountered Ali on a number of occasions and said the last time was when he was awarded the title of the corporation's Sports Personality of the Century in 1999.
"I remember after the event the Manchester United first team were there and were queuing up to meet him and get his autograph," he said.
"They had a game the next day and their manager Alex Ferguson was wanting to get them on the coach.
"These players, including David Beckham, were earning hundreds of thousands of pounds yet they were queuing up like little boys wanting to get their programmes signed.
"He was tired and after a while his wife had to eventually say that is enough."
Mr Neilly recalled as a child watching the then Cassius Clay secure Olympic gold at the 1960 Olympics in Rome and said that his talent was illuminating.
"I remember as a young boy at primary school watching him win the Olympic gold in Rome at light-heavyweight with Eamonn Andrews commentating," he said.
"Even as an amateur in Rome in 1960 you could see he had fantastic ability.
"He brought tremendous speed of thought and hand and a completely new dimension to heavyweight boxing."